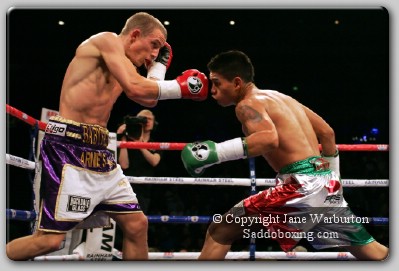 Click Image for more Paul Butler Vs Ismael Garnica Photos
At the Echo Arena, Liverpool, last night, Frank Warren presented an event billed as 'The Magnificent 7 Fight Again'. The bumper show featured 13 contests including four title bouts.
Results as follows.
Derry Mathews (Liverpool) v Adam Dingsdale (Hoo, Kent)
Vacant WBA Continental Lightweight Title
Mathews wins the WBA Continental Lightweight Title by Unanimous Points 118-108; 120-106; 119-107. After finding himself on the canvas a couple of times in round 2 – gutsy Dingsdale did well to go the distance and provide Mathews with a few problems along the way.
Liam Smith (Liverpool) v Zoltan Sera (Budapest)
Vacant WBA Continental Light Middleweight Title
'Beefy' Smith landed body-shots to score a third round TKO, but also sustained a nasty cut to the right eye which he was most worried about after the fight ended.
Valery Yanchy (Galicia, Spain, via Belarus) v Kevin Satchell (Liverpool)
EBU (European) Flyweight Title
Satchell won the Flyweight Title by majority points decision 117-112; 116-112; 114-114.
Paul Butler (Ellesmere Port) v Ismael Garnica (Mexico)
10 x 3 Super Flyweight Contest
'Baby Faced Assassin' Butler was in great form against the tough Mexican, winning on points 100-91
Thomas Stalker (Liverpool) v Jack Catterall (Chorley)
Vacant WBO European Light Welterweight Title
'The Captain' Stalker got off to a bad start when he found himself on the canvas in round one and two – but with a non-existent guard he couldn't escape Catterall's head-shots which landed continuously. Stalker's face was marked-up but Catterall suffered a cut to the corner of the right eye which also swelled-up in the mid-rounds. He was in danger of getting stopped because of the cut – so he upped the ante and Stalker was halted by Referee Mark Lyson in the eighth.
Chris Eubank Jnr (Brighton) v Omar Siala (Hameln, Germany)
8 x 3 Middleweight Contest
Eubank, with characterful father - Chris Eubank Senior at close hand, wins by second round TKO and now goes on to face Billy Joe Saunders for the EBU European Middleweight Title on the 29 November.
Liam Williams (Clydach Vale) v Stepan Horvath (Czech Republic)
8 x 3 Middleweight Contest
Williams wins by second round KO
James 'Jazza' Dickens (Liverpool) v George Gachechiladze (Georgia)
8 x 3 Featherweight Contest
Dickens wins by second round TKO
Matty Fagan (Ellesmere Port) v Andreis Podusovs (Kirkcaldy, Scotland, via Latvia)
6 x 3 Lightweight Contest
Fagan suffered his first defeat on points to Podusovs 57-58
Michael Joynson (Debut) (Kirkby) v Alec Bazza (Belfast, N.Ireland)
4 x 3 Lightweight Contest
A great start for Joynson's pro career as he scores a first round TKO
Mason Cartwright (Debut) (Ellesmere Port) v Duane Green (Norwich)
4 x 3 Welterweight Contest
Debutant Cartwright gets off the mark with a points win 40-36
Steven Lewis (Liverpool) v Fonz Alexander (Newark)
4 x 3 Welterweight Contest
Lewis wins on points 40-36
Michael Gomez jnr (Moston) v Qasim Hussain (Sheffield)
4 x 3 Featherweight Contest
Gomez jnr, watched by sombrero-wearing father - Michael Gomez ringside, was in playful mood and was told to focus by his team. Granted – it was by this time the early hours of the morning and they were already dismantling some parts of the arena, so the last three fights of the night had had a long wait. Gomez gets the points win 40-36 to notch up his second win of two.