**With Slideshow**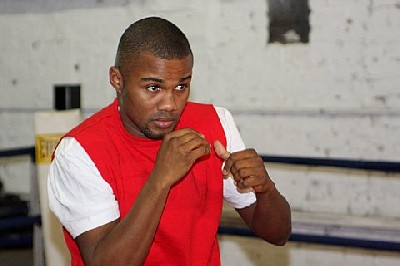 © Jim Everett / Saddo Boxing
In preparation for Saturday's "Bring on the Titans" boxing event at Madison Square Garden, the media was treated to a workout session of some of the fighters featured on the HBO Pay-Per-View event.
Five-Time World Champion, Felix "Tito" Trinidad, 42-2 (35), was in good spirits as he was interviewed and performed some shadowboxing. He joked as he danced around the ring pointing towards the canvas indicating that is where his opponent Roy Jones, Jr. would be when they face each other on Saturday.
Tito would tell the press, "I will carry my punch to 170 pounds. I feel strong at this weight. My hands are ready as they have always been. When I catch him, he will feel my power. I have been training for six months to make sure when I step in the ring I will be at my best. I wanted to fight at this weight and I feel stronger today than I have ever felt. I'm ready to go."
"I have always sparred with bigger guys and we brought in big, strong fighters for sparring. Tonight is my last sparring session and I feel great. I did a lot of sparring for this fight and I'm ready to go 12 rounds, but if he goes early, I can go home early."
"The last time I was an underdog was against De La Hoya and you see what happened. There is still time for people to change their bets on this fight. Anyone who bets against me is going to lose a lot of money."
"I want all of my fans here in America, in Puerto Rico and anywhere else in the world to know that I came back to fight for them. I will not let them down. Tito is back."
Former IBF Light Middle Champion Roman Karmazin, 36-2-1 (23), and his opponent Alex Bunema, 26-9-2 (14), were both present at the workout doing some light shadowboxing and heavy bag work.
Karmazin was confident in addressing the media, "It's wonderful to be included on the HBO Pay-Per-View telecast on Saturday night. I want all the fans in the Garden and watching on TV to know I will not let them down. They will enjoy watching what I do in the ring."
"I've heard Bunema say that he has a plan. I'm curious to see what his plan is. If he thinks I'm one-dimensional, he doesn't know much about boxing. I've seen tapes of Bunema and he is a good boxer. I'm not anticipating an easy victory but I am confident. I'll knock him out if I get the chance."
"If I can defeat Bunema, I'll take on any world champion at either 154 pounds or 160 pounds that will agree to fight them. I am a former 154-pound champion and I lost my title to Cory Spinks in a very close decision so I think I deserve another chance at a world title."
Bunema is looking forward to his chance to fight for a title, "I've been waiting for a chance to fight for a title and now I have one. I know Karmazin is a great, pressure fighter but he's a one dimensional fighter that I will take advantage of. I've been fighting bigger fighters so I feel like I can beat him. In fact, I guarantee a win on Saturday night."
Undefeated super lightweight Devon Alexander, 13-0 (9), worked the hand pads with his trainer in preparation for his toughest challenge in his career as he prepares to square off against DeMarcus Corley on Saturday's undercard.
Alexander said he is ready for his challenge against Corley, "This is the biggest fight in my life—and it ain't the last one. I feel the same but in the back of my mind I know I need to step it up for this fight. It's also a big honor for me to be fighting for the first time at Madison Square Garden, a dream come true for me. This is a big opportunity for me to show the world I can be the best 140-pound fighter in the world."