**With Slideshow**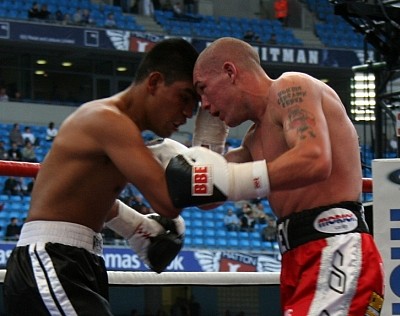 © Curtis McCormick / Saddo Boxing
One of Manchester's favorite sons was in action on the Hatton vs. Lazcano bill this past Saturday at City of Manchester Stadium as Jamie Moore came back from a shoulder surgery to face young Mexican brawler Esau Herrera in a scheduled eight round contest at middleweight.
The two-time former British Light Middleweight Champion voluntarily gave up his British belt in December to allow stablemate Gary Woolcombe the opportunity as Moore was targeting the European title of champion Zaurbek Baysangurov on the same bill in Wigan before he severely injured his shoulder a week from fightnight.
23 year old Mexico City resident Esau Herrera was brought in to provide Moore with a warm up fight as the Salford southpaw had been out of the ring since October but Herrera quickly showed that he wasn't going to come to England just to lie down.
Despite the lack of an impressive record, Herrera had put together win streaks of eight and four bouts in his young career and had come very close to defeating highly seasoned former world title challenger Ben Tackie at welterweight in 2006.
Once the bell rang to start Moore vs. Herrera, the Mexican discovered he couldn't win in the center of the ring with Moore and he shifted tactics by going forward.
Herrera put his head down and forced Moore on the backfoot, pinning the local icon on the ropes with his shoulders buried in Moore's chest.
Herrera was relentless, throwing everything and anything at Moore, who is used to putting opponents on the ropes and was clearly having difficulty with such an aggressive rough and tumble adversary.
Anytime Moore would get himself breathing room by cracking Herrera with a riveting shot, the visitor would come right back with his bruising pressure and again have Moore pinned to the ropes.
At times Herrera found a home for his own short shots on the inside and on more than one occasion, the head of the former British Champion rocketed skyward from a hard Herrera uppercut.
It was a massive effort from Herrera, who knew he couldn't box with the Englishman and had to negate Moore's advantage in that department by turning the ring into a phone booth, and invariably he began to tire by the fourth frame.
Once Moore got off the ropes he began to batter Herrera in the center ring with a two handed assault that had the Mexican reeling but to his credit, Herrera sucked it up and again put Moore on the ropes and slugged it out.
Moore turned the tables on Herrera and banged up the Central American on the ropes in the fifth, hurting Herrera with full-blooded right hooks until he dropped hard to the canvas.
Herrera beat the count but was hammered for his trouble, the victim of the excellent finishing skills of Moore and the bout was soon deservedly waved off at 1:31 of the fifth frame.
Jamie Moore stays in line for the European title and wins a difficult fight to improve to 29-3 (20), while Esau Herrera drops to 14-4-1 (6) but impresses all at ringside with his big-hearted effort against a more experienced and skilled opponent.