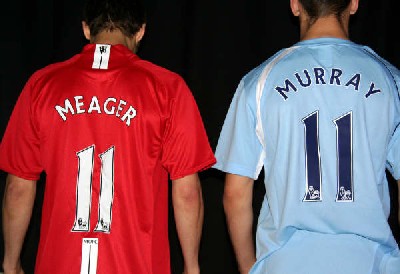 © Jane Warburton / Saddo Boxing
Promoter Mick Hennessy believes his boxers Lee Meager and John Murray can produce the best domestic fight of the year when they meet tomorrow, Friday, July 11, 2008.
Meager and Murray get it on in a Manchester derby for the vacant British Lightweight title at the Robin Park Arena in Wigan on a Hennessy Sports show in association with GoldenPalace.net
Sky Sports 1 will televise the showdown, which Hennessy is confident will produce fireworks in the ring. "This could be one of the domestic fights of the year and is not to be missed," he said.
"It's hard seeing two of your own fighters squaring off against each other but they both really wanted it and their styles really gel together so we expect them to produce a really exciting fight.
"Ringside observers at the gym where they sparred together have said they were really entertaining encounters. They just had out and out gym wars. After seeing them both spar, I think that this will definitely be one of the best fights of the year."
Undefeated Former English champion Murray is expecting the title fight to be a closely fought contest after getting to know Meager through sparring with his fellow Hennessy boxer.
"We really went for it in the sparring sessions and although we know each other, we will both be trying to take each other's head off on the night," said the former Boxing Writers' Young Boxer of the Year.
"We both got some good shots off and I got the better of some sessions while he got the better of others. So it's a 50-50 fight."
Former British champion Meager is confident he can produce his best performance in a while.
"I've got my preparation right for this one, so you'll see a difference hopefully," said Meager, who lost the British title on points after a brilliant bout with Jon Thaxton in 2006.
"I've taken time off from my job so the training has been spot on and I'm ready to deliver. It's a great opportunity to get my career back to where it was a couple years ago."
Few tickets are still available, please call 0844 800 7138 to reserve your tickets on the door.
The line-up for "Strictly Business" is as follows:
Lee Meager vs John Murray: British Lightweight title 12 rounds
Nadeem Siddique vs Martin Gethin: light welterweight 8 rounds
Steve Saville vs Mark Betts: light welterweight 8 rounds
Darren Askew vs Graham Fern: welterweight 6 rounds
Brian Magee vs Simion Cover: super middleweight 6 rounds
Ali Shah vs Peter Buckley: welterweight 4 rounds
Khurram Hussain vs Paddy Pollock: welterweight 4 rounds
Steve O'Meara vs TBA: welterweight 4 rounds