**With Slideshow**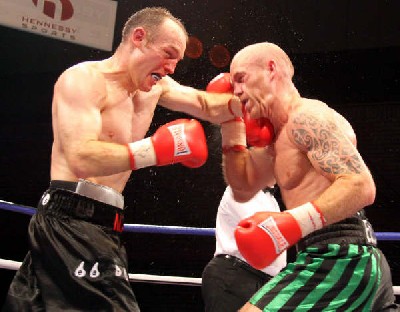 © Jane Warburton / Saddo Boxing
There were two other ʽtitle' fights on Saturday night at the Brentwood Centre, Essex, as Brian Magee faced Stevie McGuire for the vacant British Super Middleweight belt and Lee Purdy met Peter McDonagh for the British Southern Area Light Welterweight crown.
Irish-born ʽConnemara Kid' McDonough - now residing in Bermondsey, London, has a 12-13 (2) record coming into the bout while his younger opponent, Lee ʽLights Out' Purdy, hails from Colchester and is undefeated - boasting an 8-0-1 (5) CV.
In round one, McDonagh circles his opponent, whipping out the left straight while Purdy looks on, seemingly waiting to counter with a big punch. McDonagh is accurate as he picks away at the face of Purdy - while the Colchester man is a little off-target, but starts to settle in towards the latter half of the first frame.
McDonagh keeps focussed in the second- continuing to encircle Purdy, but Purdy lands a good right followed by a left and McDonagh is pressured back on the ropes in the closing minute of the frame. Purdy gains confidence in the third and both men land.
McDonagh immediately lands another right to the face of Purdy as they come out for the fourth. Close-up, Purdy works the body of McDonagh but they're not clean punches.
The sixth round sees Purdy pressure McDonagh in the middle of the ring - McDonagh tucks in tight to weather the storm then stands back to throw the straight punches at a more motivated Purdy. Just when you sense that McDonagh is starting to tire from his relentless work-rate - he lands a peach of a right hook which rocks back the head of his opponent. Purdy digs in as McDonagh lands a left and a right and now Purdy looks tired as they end the sixth.
McDonagh throws the uppercut a number of times as they get in close during round seven. It's a real slug-fest as they lock together in the last half minute of the round. Both men look tired after their seventh round battle and Purdy has sustained a cut to the left eye area.
Purdy is sent back to his corner to retrieve his gum-shield as they come out for the eighth. McDonagh marches forward, throwing anything he's got! Then in the last twenty seconds of the frame, he lands a big left and Purdy's head is flung back from the force and I'm surprised to see him still standing! His legs are unsteady as he takes another punch and is literally ʽsaved by the bell'.
Purdy's head is rocked back again as soon as they come out for the ninth. Another big right lands midway through the round but Purdy keeps going. Both men lean on each other - looking exhausted - then Purdy, urged on by his corner, goes at McDonagh with a barrage of shots. But in the closing twenty seconds, McDonagh lands a right then another right then a left to the chin of Purdy and they hold on to each other throwing whatever they can muster!
The tenth and final round sees both men bravely digging in - trying to throw punches and as the round draws to an end, McDonagh affords himself some showboating.
McDonagh wins on points 96-94 and is the new Southern Area Light Welterweight Champion.
Brian Magee of Belfast, Northern Ireland, faced unbeaten Stevie McGuire of Glenrothes, Scotland, for the vacant British Super Middleweight title.
It's a steady start for both men as they suss each other out - southpaw Magee standing up to his taller opponent, but McGuire sustains a graze over the right eye after just two minutes of the round have passed.
McGuire settles in to the fight around the third frame and it's a good round for him. Both men use combinations to the head of their opponent but Magee sustains a cut to the nose after an accidental head clash midway through the fourth.
Moments later, McGuire throws a wild swinging left which causes him to over-balance. In the last half minute of the round, Magee's head goes in and McGuire dabs at his forehead, which looks to be unscathed, however, he has a mark on his left eye now. As they start round five, referee Richie Davies calls them together to tell them to ʽclean it up'. But there's a lot of ʽhanging on' throughout the contest by these two men.
A good left shot from Magee finds it's target and McGuire's head snaps back. With just over a minute of the sixth remaining, Magee lands a sweeping right to the body of McGuire, who drops down to one knee. He is clearly in pain but makes the count to continue the fight.
Magee goes after McGuire with more body-shots but they are stifled by McGuire's defence. Then just a couple of seconds before the bell ends the round, Magee lands a short left to the body and McGuire goes to his knee again as the bell sounds the end of the sixth.
Referee Davies administers the count and McGuire - grimacing - gets to his feet and back to the corner. In the first minute of the seventh, Magee lands a low (ish!) blow and McGuire walks away in some distress, but the blow looked to be on the lower edge of the belt and referee Davies - though warning Magee to keep the shots up - wasn't sympathetic towards McGuire and fighting quickly continued.
Less than a minute later, Magee lands another low blow, but this time the referee deducts a point from the Belfast man.
In the closing seconds of round eight, Magee lands another body-shot and though McGuire keeps upright - it's clear he ʽfelt' it. Seconds later, Magee lands a straight left to the solar plexus then another left and right to Maguire's body and the Scot drops to his knees, doubled over with pain.
Magee wins by TKO in round eight and is the new British Super Middleweight Champion. His record now stands at 32-3-1 (22).
Other undercard results on Saturday included:
Light middleweight Steve O'Meara of Wembley defeats Matt Scriven of Nottingham on points after four rounds and improves to 5-0.
Super middleweight Matthew Thirlwall of Bermondsey stops Sherman Alleyne of Watford in the fourth round to improve to 17-3 (9).
Dwayne Lewis of Canning Town outpoints Ryan Walls of Slough after four rounds at super middle and improves to 6-0-1 (4).
High Wycombe's Gareth Couch outpoints Steve Gethin of Walsall after four rounds at lightweight to improve to 14-0 (2).