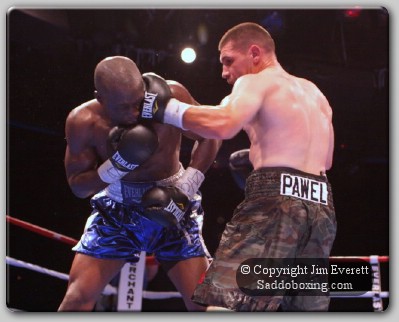 © Jim Everett / Saddo Boxing
DiBella Entertainment and Winters Boxing brought the fights back to Long Island and the Westbury Music Fair, now the Capital One Bank Theater at Westbury, NY.
The action packed card was headlined by Pawel Wolak, whose pressure style of fighting earned him a unanimous decision against Contender alum Vinroy Barrett.
The history of the Music Fair goes much beyond boxing and was originally a tent that was raised with the hope of bringing Broadway to Long Island.
The first performance on June 18, 1956, starred Charles Korvin and Constance Carpenter in "The King and I" and nearly ten years later, the tent was replaced with a round fully enclosed theater.
Although the Music Fair was best known for its concerts, professional boxing debuted there in 1995 and had its last fight in 1998 when local favorite Juan La Porte lost a split decision to Teddy Reid in the main event.
It has been eleven years since a professional fight has taken place at the popular Westbury Theater and was brought back with class and style. Promoter Lou DiBella made tickets available to members of Long Island's Fire and Police Department as well as local veterans and their families.
After an exciting evening of boxing for the local Long Island fans, it appeared they might be in for a quick main event as Wolak had Barrett covering up on the ropes in the first round, taking several unanswered shots, but Barrett endured through the ten round event.
Wolak, 24-1 (16), was in control throughout the entire bout. He boxed well from the outside and worked his way in on Barrett as well. Wolak was tireless with his constant pressure, landing combinations and forcing Barrett to cover up on the ropes on several occasions.
To his credit, Barrett, 22-8 (11), never gave up at any point during the bout. Although he seemed to tire at times, it appeared as he covered up and took some punishment from Wolak that he used the time to catch his breath and came back grunting as he attacked the body of Wolak in an attempt to slow him down.
For as much effort as Barrett gave, it was not nearly enough to win the rounds. The judges scored the bout all in favor of Wolak with scores of 100-89, 100-88 and 99-89.
In addition to another win for Wolak, this brings his records against Contender fighters to 3-1 (2), losing a ten round decision to Ishe Smith while knocking out both Norberto Bravo and Jonathon Reid.
Undercard:
Welterweight – 8 Rounds
Chris Gray, 12-9 (1), PTS8 Mike Ruiz, 8-4 (5).
Heavyweights – 6 Rounds
Zack Page, 18-23-2 (6), KO3 Kasim Howard, 8-1 (4).
Light Heavyweight – 6 Rounds
Will Rosinsky, 8-0 (6), MD6 Alexander Mancera, 8-3 (5).
Lightweights – 6 Rounds
Steve Ormond, 4-0 (1), UD6 Sergi Ganjelashvili, 4-3-1 (0).
Light Welterweights – 6 Rounds
Chris Algieri, 7-0 (4), UD6 Henry White, 3-3-1 (2).
Light Middleweights – 4 Rounds
Lambros Karaolides, 3-0 (2), UD4 Troy Nelson, 0-4 (0).
Light Heavyweights – 4 Rounds
Dameon Marchall, 1-2 0, MD4 Brian Hart, 0-1 (0).
Middleweights – 4 Rounds
Denis Douglin, 3-0 (2), UD4 Vernon Richardson, 0-3 (0).