By Jane Warburton November 30th, 2009 All Ringside Boxing
**With Slideshow**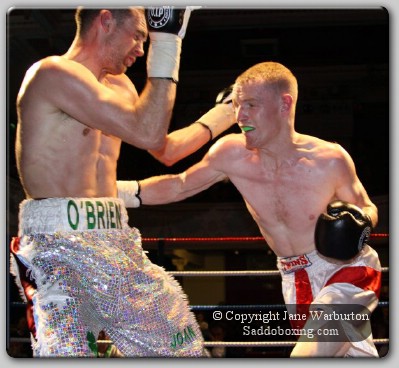 © Jane Warburton / Saddo Boxing
There was a great Sunday afternoon atmosphere yesterday at the Colne Municipal Hall in Colne, England, when Steve Wood of VIP Promotions and vipboxing.tv hosted a four-fight bill of local boxers.
Trevor Crewe (Sunderland) v Manoocha Salari (Worksop)
4 x 3 Light Middleweight Contest
Popular 'Wrecking' Crewe got off to a strong, fast start against Iranian born Salari, but seemed to fizzle out after the first round. Throwing very few punches in the second half of the fight – Crewe's corner urged him to work.
Salari – after the first round 'wobble'- gained in confidence and became the busier and more 'up for it' of the two securing the points win.Salari improves to 5 wins (3 by KO) 10 losses (7 by KO) and 3 draws. Crewe drops to 2 wins (2 by KO) and 1 loss.
Chris O'Brien (Burnley) v William Warburton (Middleton)
6 x 2 Welterweight Contest
A close contest between these two fighters, but despite the thumping overarm rights from O'Brien in the last round – the contest is a draw 57-57.
O'Brien's record now stands at 6 wins (1 by KO) no losses and 2 drawn. While Warburton's is 1 win 6 losses (2 by KO) and 2 drawn.
Shayne Singleton (Colne) v Carl Allen (Wolverhampton)
4 x 3 Lightweight Contest
Popular Singy was busy against tough veteran Allen in this four-rounder. A big body-shot from the local man in round three saw a normally resilient Allen falter momentarily. It was a great round three for Singleton.
Allen was pressured in the corner during the last round but finally worked his way out with a couple of decent 'slugs' and looked like he was in no mood to mess around!
Singleton gets the points win 40-36 and improves to 3 wins (2 by KO) while Allen drops to 18 wins (5 by KO) 85 losses (14 by KO) and 7 drawn.
Kieran Farrell (Heywood) v Kemal Plavci (Serbia)
4 x 2 Bantamweight Contest
Aggressive fighter Farrell pursued his opponent throughout the contest. Gasping with effort at every punch thrown – Farrell kept up the pressure over the Serbian to secure the points win (40-36).
Farrell improves to 4 wins (1 by KO) while Plavci drops to 4 wins (1 by KO) 31 losses (5 by KO.
Click to read more boxing articles by Jane Warburton
Discuss in Boxing Forum
---
Boxing News Tags: Boxing Results, Carl Allen, Chris O'Brien, Kemal Plavci, Kieran Farrell, Manoocha Salari, Ringside, Shayne Singleton, Trevor Crewe, William Warburton