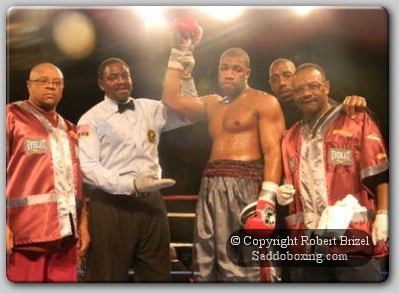 On Friday night at Harrah's Hotel and Casino in Atlantic City, New Jersey, heavyweight Chazz Witherspoon scored a fourth round stoppage over Alexis Mejias, who failed to get off his stool for the fifth round bell of the scheduled ten rounder. Witherspoon, now 28-2 (20), Philadelphia, Pennsylvania, had no trouble finding and hitting Mejias, now 11-6 (5), Humacao, Puerto Rico, winning the first round and turning the face of Mejias cherry red.
Witherspoon came forward at the opening bell throwing big overhand rights, and a lot of cautious jabs. Mejias threw wildly trying unsuccessfully to counter. However, Mejias did land two nice overhand rights to Witherspoon's head late in the round, without effect, just scoring.
In round two, Mejias style became more evident, moving his arms up and down constantly, leaving wide open holes. The fighters went around the ring in circles, neither cutting off the ring. The story was pretty much the same. Witherspoon came forward throwing cautious jabs, Mejias countering, mostly missing wildly.
In round three, Witherspoon landed a big overhand right, his best punch of the night. Witherspoon's heavier power shots began to get through and Mejias appeared to be a beaten man who no longer wanted to fight. Witherspoon throwing many cautious jabs, scored with most of them.
In round four, Witherspoon's big right hands began to hit their mark. Mejias appeared gassed, a beaten and battered man. Mejias counters and flurries were far and few between, and he was taking a bad beating by the end of the round. Accordingly, Mejias gave up on his stool, unwilling to take further one-sided punishment.
In the post fight interview, Witherspoon stated some of his ring tactics were based on The Art of War by Sun Tzu. "Mejias was trying to set me up for the right uppercut, but couldn't do it. There was an accidental head butt in the third round, which was my only concern. I started loading up on my punches. I knew time would wear on him, and I could go after him later."
Undercard Results
Joel De La Paz W4 Troy Maxwell, Super Middleweights
Scoring 40-36 twice and 40-35
Lavarn Harnwell TKO1 Khalil Farah, Light Heavyweights
Ismael Garcia W4 Corey Preston, Middleweights
Scoring 40-36 twice and 40-35
Joey Tiberi TKO1 Tonia Parker, Featherweights
Keenan Smith KO4 Anthony Royal, Lightweights