Click for larger image © Jim Everett / Saddo Boxing
ESPN2 "Wednesday Night Fights" was in New York City this past week showcasing an extravagant night of Black-Tie Boxing from Cipriani's Wall Street. The elegant event brought out a host of celebrities from the world of boxing including Monte Barrett, Iran Barkley, Shannon Briggs, Vinny Maddalone, Jameel McCline and Michael Olajide.
The evening began with local lightweight favorite Jorge "The Truth" Teron making short work of Jefferson Rodriguez with a left hook to the body at 2:17 of the first round. In a delayed reaction from the punch to his liver, Rodriguez dropped to a knee for the full count. Teron improved to 17-0 (11) while Rodriguez drops to 20-11 (19), losing his last five fights.
Click for larger image © Jim Everett / Saddo Boxing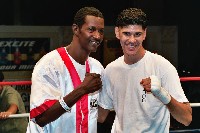 In a six round lightweight fight, Carney "Beeper" Bowman continued his undefeated record, climbing to 8-0 (4) after the ringside physician advised that southpaw Jorge Lara, 3-4-1 (0), was not fit to continue at the end of the fifth round.
Click for larger image © Jim Everett / Saddo Boxing
Darrel "King David" Madison improved to 4-1 (3), defeating fellow southpaw Jason Bergman 4-2 (3) by unanimous decision in a four round heavyweight fight. Although Bergman had a reach advantage, it was Madison who fought from the outside for most of the bout, landing his quick jab one and two at a time.
Madison also took advantage of Bergman's awkward hand position as the Pennsylvanian seemed to keep both hands close to his chest, nearly crossing his arms, which put him in a difficult position to counter Madison's one-two combination attack.
Click for larger image © Jim Everett / Saddo Boxing
The main event featured the return of super middleweight Yusaf Mack following his knockout loss to Alejandro Berrio just over a year ago. In his first appearance to the ring in just over thirteen months, Mack faced Jose Vasquez, who coincidentally had his last fight the day before Mack's last fight in May 2006.
Looking at the inactivity of Vasquez, the fact that he took the fight on relatively short notice and that as he waited for the opening bell, he had the look of a deer in the headlights, I thought it was going to be a quick night for Mack, but Vasquez came ready to fight.
The first four rounds were full of exciting exchanges with both fighters landing solid blows. At times, Vasquez pressured Mack to the ropes but the Philadelphian would work his way out with three, four and even five punch combinations.
Near the end of the third round, Mack connected with three right crosses in a row to the side of Vasquez's head, which wobbled the Puerto Rican, but could not take him down.
Mack would take over the fight in the later rounds, using his superior hand speed to outwork Vasquez. Mack improved to 23-1-2 (14) by scores of 95-94 and 97-93 twice while Vasquez dropped to 16-2-1 (9).
Click for larger image © Jim Everett / Saddo Boxing