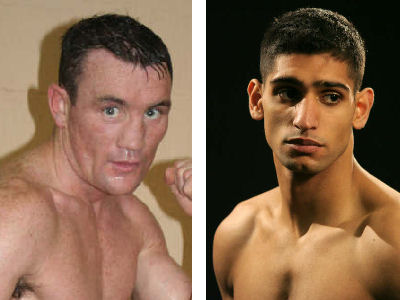 © Jane Warburton / Saddo Boxing
SaddoBoxing Exclusive Interview With Gomez Trainer Bobby Rimmer
This week it was announced that Michael Gomez will face Amir Khan on June 21 at the National Indoor Arena in Birmingham, England. Gomez will be hoping for the best birthday present he could ask for - if he can successfully defeat the Bolton Boxer, as it is Gomez's 31st birthday that same day.
Gomez was to face Peter McDonagh on May 23 at Robin Park, Wigan, but McDonagh pulled out of the contest.
Khan, who has split with trainer Oliver Harrison and is now fighting under new trainer - Dean Powell, will be looking for his 18th professional win.
SaddoBoxing spoke to Bobby Rimmer this morning to find out how the 'camp' is feeling about the news.
"This is sure to be a 'beltin' fight!," enthused Rimmer, "Michael gets 'written off' by everyone but he'll be the best opponent Amir Khan's ever fought and it couldn't come at a better time.
"Michael was training hard for the McAllister fight and McAllister pulled out, then he was training hard for the McDonagh re-match and McDonagh pulled out.
"Now he's fighting at lightweight - the weight is definitely better for him, we did a body-belt session yesterday and I've got marks on my face to prove it Michael is really fit, in fact, we've had to 'pull-him back' a bit this week and ease off the sparring a little bit."
When asked how Gomez was feeling about the match-up, Rimmer said, "Of course he is excited about it, he sees it as his way to get back into the 'big time' and it was always our intention to help him work his way back into the 'big time' - not just to go for one big fight and then disappear - but to take on some of the smaller fights and work his way back up.
"Khan has fast hand-speed , but Michael has trained fantastically. We're in a great position and I'm really, really pleased to get another 'big' fight !"