By Jane Warburton June 2nd, 2009 All Ringside Boxing
**With Slideshow**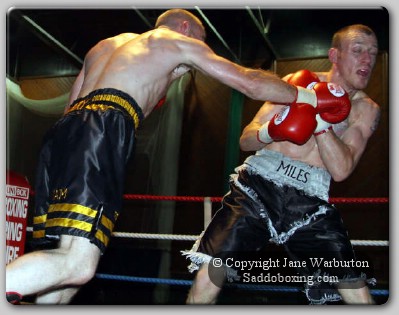 © Jane Warburton / Saddo Boxing
Sunday afternoon at the Meadowside Leisure Centre in Burton-on-Trent, England, PJ Rowson and Errol Johnson of 'First Team Promotions' hosted a fight card headlined by a British Masters title clash.
Robert Kenney (Wolverhampton) faced Dale Miles (Alfreton) in the main event for the British Masters Welterweight title.
It was a better start to the fight for Miles, in fact 'Yam Yam' Kenney didn't really 'pick it up' during the fight. Miles's corner shouts at him to 'target the body!' And he did land some solid body-shots in round five, which seemed to sap the Wolverhampton man, who has now sustained a cut under the left eye.
Despite Kenney's corner urging him to go for the body - he didn't, instead choosing to throw head shots, which weren't having the effect. Southpaw Miles keeps up the body punches - landing while backing Kenney on the ropes in round six.
Round seven and Kenney sinks to his knees (almost in slow motion) from a neat punch to the temple. It's an anxious time again - as paramedics administer oxygen but Kenney recovers to hear the decision from referee Terry O'Conner.
Miles wins the Title by seventh round KO and improves to 6 wins (3 by KO), no losses.
Jonjo Finnegan (Burton-on-Trent) v Ernie Smith (Stourport)
4 x 3 Light-Heavyweight
Finnegan seemed a bit slow to get started against veteran - 'Gypsy Boy' Smith. His corner shouts to him 'Don't pose, Jonjo!' several times and encourages him to keep busy.
After a last flurry of shots in the final round - Finnegan gets the points decision 40-36 His record now stands at 12 wins, 5 losses (2 by KO) with 3 draws.
Duane Parker (Coventry) v Luke Gallear (Derby)
6 x 3 Light Middleweight Contest
There was big support for both 'Bulldog' Gallear and Duane Parker, but for me - Parker was the best I've seen him. Dominating from the start, he scored with some great uppercuts in round two and three.
Keeping focussed and doing everything his corner asked of him - he lands solid body punches in round four. Gallear loses his gumshield in round five and as Parker sinks in more body-shots - the Derby man is looking tired.
Parker wins on points, 59-56, while a disappointed Gallear kicks his gumshield out of the ring in annoyance.
Parker improves to 8 wins, no losses.
Olly Newham (Nottingham) v Paul Royston (Sheffield)
6 x 2 Middleweight Contest
Royston literally 'ran rings around' Newham! While 'Olly' stands centre of ring - Royston continuously skips around the edge of the canvas. Eventually, Newham stands still and lets Royston come to him.
Round five and the Sheffield man hardly through a punch - he just kept skipping around and was also deducted a point.
Newham wins on points and improves to 4 wins (2 by KO), no losses.
Steve Jevons (Swanwick) v Daniel Thorpe (Sheffield)
6 x 2 Lightweight Contest
Southpaw Jevons notches up his third pro-win with a victory over veteran Thorpe. Counter-punching Thorpe tries to 'draw' Jevons 'in', but using left and right punches - Jevons prevails to win on points 59-55.
Jack Perry (Derby) v Carl Allen (Wolverhampton)
6 x 2 Light Welterweight
Popular Jack Perry had a difficult task against tough Carl Allen. Long-reaching Perry was slightly out-of range to start and it seems Allen was getting the better deal.
But despite a frustrated corner - Perry picked it up in round three and secured a 40-36 points win. His record stands at 9 wins (1 by KO), no losses and 1 draw.
Nathan McIntosh (Nottingham) v Chris Brophy (Swansea)
6 x 2 Light Middleweight Contest
Not an easy win for Nathan McIntosh who was encouraged to up the work-rate and use the jab more by his corner. Brophy kept centre of ring while McIntosh skips around the ropes encircling his opponent.
Brophy was always looking to land a big right, which didn't materialise. McIntosh wins on points and improves to 4 wins, no losses.
Scott Conway (Derby) v Wayne Downing (West Bromwich)
4 x 2 Light Middleweight Contest
Downing - a trainer with Errol Johnson and Bob Plant at the Wednesbury Boxing Academy, won by TKO round two. Southpaw Downing used his swinging left punch with success and Conway was on the canvas twice.
It was a worrying time afterward as Conway tried to get on his feet but collapsed - requiring oxygen from paramedics in attendance.
Downing's record now stands at 5 wins (1 by KO), 8 losses (5 by KO).
Click to read more boxing articles by Jane Warburton
Discuss in Boxing Forum
---
Boxing News Tags: Boxing Results, Carl Allen, Chris Brophy, Dale Miles, Daniel Thorpe, Duane Parker, Ernie Smith, Jack Perry, Jonjo Finnegan, Luke Gallear, Nathan McIntosh, Olly Newham, Paul Royston, Ringside, Robert Kenney, Scott Conway, Steve Jevons, Wayne Downing