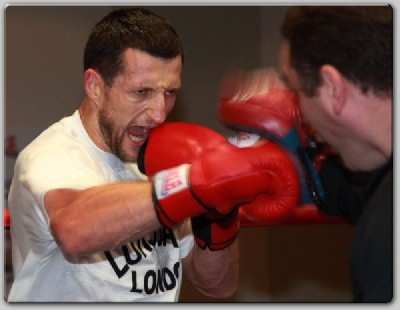 © Tom Casino / Showtime Boxing
WBC super middleweight champ Carl Froch worked out for the media yesterday in Nottingham, England in preparation to his title defense against American prospect Andre Dirrell.
Afterward, Froch took time to answer questions from the media concerning his hometown showdown with Dirrell this Saturday at Trent FM Arena.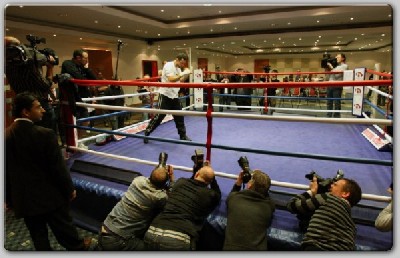 © Tom Casino / Showtime Boxing
On Andre Dirrell's trash talk in the lead up to the fight:
"I don't look too much into mind games before a fight because I've heard it all before. I've had 25 fights and every one of my opponents said they'd decapitate me or knock me out or whatever. They all come with their own game plan and their own story but every fighter has to believe in themselves and be confident.
"Maybe he's coming over here super confident and I'm sure he will be right up until the first bell but as soon as I start connecting with those ten ounce gloves he'll start to realise he's in there with a proven, strong, warrior and World Champion and that he's a long way from home."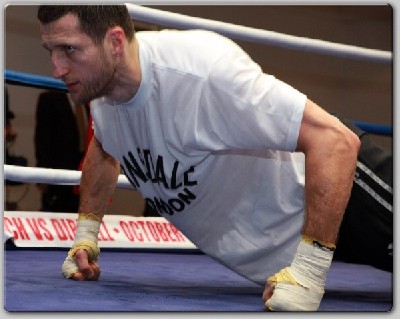 © Tom Casino / Showtime Boxing
On Dirrell's more polite approach since arriving in Nottingham:
"If he's calming down on the trash talk then it's obviously dawning on him the task in hand. He's got to fight a proven World Champion, who's beaten a man who's now World Light Heavyweight Champion, Jean Pascal, and then went to America to beat Jermain Taylor, a man who was an Undisputed World Middleweight Champ."
On fighting at home in Nottingham at the Trent FM Arena:
"Being at home with 8,000 screaming fans all in your favour it gives you an edge so I'm looking forward to that. I know what it's like to have the fans against you, booing every time you land a shot and cheering every time you get smacked on the chin and it's not very nice."
On coping with Dirrell's vaunted speed:
"Speed's not a problem if you're not there to be hit and it's my job to ensure I'm not there to be hit and keep my guard up and that's what I've been working on in training."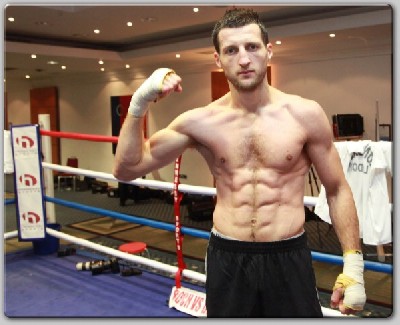 © Tom Casino / Showtime Boxing
On his tactics for Dirrell:
"I'm going to be gunning for him. I'm going to be hitting him hard to the body early on and once he starts to slow down then I'll drag him into a fight and we'll find out what he's got.
"Styles make fight, it's an old cliché but its true. I've seen a few flaws in his style in the fights I've watched but I'm sure I've looked terrible in some of my fights and he could watch those and pick holes in my armoury."
On his preparations for the fight:

"All I've been concentrating on is doing my work right. I've had a great camp; my running's been brilliant so I'm super fit. My heart rate's down where it wants to be. My weights down, I was already a pound inside the 12 stone limit when I woke up this morning so that won't be a problem. I'm eating good food, I'm feeling very strong and I've done some real damage in my sparring without mentioning any names. So I'm feeling as strong as I've ever done and punching harder than ever."
On the Super Six tournament:
"We've got a win, lose or draw scenario which is very unique in boxing. If you're in a position where you're defending you're title and you were to drop a decision and lose the title then you're in no mans lads trying to build yourself back up but in the super Six we have the privilege of three fights guaranteed at World level and getting paid well win, lose or draw so there's a bit of a safety net there but I don't look at it like that.
"I'm a winner and I don't go in there thinking of anything else other than winning. My style has always been geared towards knocking the other guy out. If I'm going into round eleven having won the previous ten I still want to knock the other guy out."
On an ankle injury suffered prior to his last fight, a dramatic final round KO of former undisputed Middleweight Champ and fellow Super Six participant, Jermain Taylor:
"I had an ankle problem before the Taylor fight when I fell when I was out running. I turned it over pretty bad. I actually contemplated pulling out. It was around a month before the fight but the last thing I wanted to do was pull out but I was limping and hobbling around. It was a strained lateral ligament."
The Carl Froch – Andre Dirrell WBC Super Middleweight title fight will be screened live on pay per view in the UK and Ireland on new satellite channel Primetime (Sky channel 480) as part of a knockout Super Six tournament double header from Nottingham and Berlin.
The tournament officially kicks off in Germany when former marquee Middleweight Champs Arthur Abraham and Jermain Taylor clash at The O2 World Arena in Berlin before the action moves to Froch's hometown and the Trent FM Arena in Nottingham.
To watch the opening night of the Super Six tournament on Primetime (Sky channel 480) call 0871 200 4444 (+448702 416 666 from the Republic of Ireland) or see http://www.primetimelive.co.uk. The event is available at a special price of £12.95 until 24 hours before the fight after which it will then increase to £14.95.
Tickets for Froch V Dirrell are available from the Trent FM Arena, Nottingham Box Office priced £30, £45, £125 and £250. To purchase tickets call the Box Office on 08444 124 624 or visit www.trentfmarena.co.uk. Tickets are also available from Ticketline on 0844 888 4402 or via www.hennessysports.com.
For more information on the Super Six World Boxing Classic including exclusive videos, photography, expert analysis from Al Bernstein and Steve Farhood, and much more please visit www.WorldBoxingClassic.com or visit http://www.hennessysports.com/worldboxingclassic.htm.