**With Slideshow**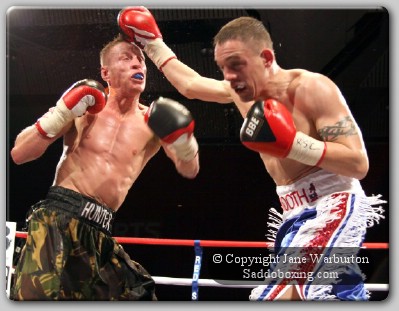 © Jane Warburton / Saddo Boxing
On Friday night, at the Seaburn Centre in Sunderland, England, Jason '2Smooth' Booth made his second defence of the British super bantamweight title, which he won in April this year. The event - promoted by Frank Maloney - featured 12 contests.
Jason Booth (Nottingham) v Michael Hunter (Hartlepool)
12 x 3 British Super Bantamweight Title
Hunter takes centre of ring straight away keeping Booth edging around the perimeter, but Booth gets through the middle of Hunter's high guard within seconds.
Hunter tries for the body but Booth lets loose a decent left hook which lands to Hunter's right cheek. Hunter gets busy at the end of the round with uppercuts and hooks to the head. A good right lands but many are hitting the gloves and arms of Booth.
The second sees Booth keeping up the pressure with Hunter still looking tense as he keeps a tight defence. Booth lands a great left wide hook which sweeps across the chin of the Hartlepool man. His speed is noticeable - whipping out both left and rights and uppercuts.
An excited Jason Shinfield is sat behind me shouting out encouragement to Booth. But Booth is focussed and sharp - landing a variety of shots, nipping in and out and quick on his feet.
Booth starts to dig in some solid body-shots in round four and in the closing half minute of the round - Hunter's energy seems to have been sapped by shots to the head and body. And as he sits in his corner at the end of the round - he looks subdued.
Booth continues with pace in round five, and from my ringside position I can almost 'feel' the body-shots, which land solidly to Hunter's torso. Hunter does well to keep upright from the barrage of shots but it's taken a lot out of him. Hunter retires on his stool at the end of the fifth.
Booth retains his belt. His record now stands at 34 wins (14 by KO) and 5 losses while Hunter drops to 29 wins (13 by KO), 2 losses (2 by KO) and 1 draw.
David Price (Liverpool) v Liridon Memishi (Germany)
6 x 3 Heavyweight Contest
This was second time out for both boxers. Former Olympian Price got off to a great start. Towering over his German opponent, Price keeps up the pressure but Memishi is not afraid to come forward.
He calls Price 'on' in round two and continues to lunge forward at him but Price finishes the round strong.
During the intermission - Memishi retires on his stool. Price wins by stoppage at the end of round two. His record now stands at 2 wins (2 by KO) and no losses. Memishi drops to 1 loss and 1 draw.
Price has been out of the ring for seven months, but will be fighting again on Friday at Bolton.
Tony Jeffries (Sunderland) v Artem Solomko (Belarus)
6 x 3 Light Heavyweight Contest
'Jaffa' aka 'The Mighty Mackem' was welcomed in to the ring by the 'Mighty Mackem Mover' who danced (?) to the music made famous by 'The Apprentice'.
Usually a quick finisher, this time Jeffries went the distance against Belarusian Solomko - in this - his fourth professional contest.
Solomko had definitely come to 'have a go' but Jeffries kept busy with the jab and landed some solid body-shots in the closing seconds of the opening round.
By the end of the second frame, Jeffries has landed a total of 33 punches as opposed to Solomko's 12. Jeffries - who's not looking as comfortable as usual - seems a little frustrated in the third.
In the closing minute of round five, Jeffries lands a decent left to the head of Solomko and he topples backwards into the corner but immediately shakes it off and gets back in to the fight.
Solomko sustains a cut to the right brow in the last minute of the sixth and final round - and Jeffries, encouraged by the cut - ups the pace to finish the round strongly. Jeffries gets the points win 60-54
Sky Sports statistics reveal that Jeffries has the better success rate landing 82 of 301 punches (27% success) as opposed to 41 of 213 (19%).
Jeffries improves to 4 wins (3 by KO) and no losses. Afterward, Jeffries said he 'fought scrappy' but was pleased with the win.
Paul Holborn (Sunderland) v Ben Murphy (Brighton)
8 x 3 Lightweight Contest
This was a scrappy 'wrestling-style' fight with both men throwing everything at a hundred miles an hour - and grappling. Holborn was bleeding from both eyes in the eighth round and though both men threw just over 400 punches - it was Murphy that had the better success (17% as opposed to 11%)
Contest was a draw. Holborn improves to 11 wins and 2 losses and 2 draws. Murphy improves to 6 wins (3 by KO) 2 losses and 1 draw.
Gary Sykes (Dewsbury) v Ibrar Riyaz (Reading)
8 x 3 Super Featherweight Contest
Sykes used both lefts and rights successfully to win on points 79-74 and improves to 13 wins (4 by KO) and no losses. Riyaz drops to 3 wins (1 by KO) 8 losses and 1 draw
Dave Ferguson (Sunderland) v Romans Dabolins (Latvia)
6 x 3 Heavvweight Contest
Ferguson made short work of his opponent - winning by first round TKO. Dabolins went down three times before being stopped mid-way through the round.
Ferguson improves to 10 wins (4 by KO) and 2 losses while Dabolins drops to 9 wins (6 by KO) and 12 losses (4 by KO).
George Groves (Hammersmith) v Tadas Jonkus (Lithuania)
6 x 3 Super Middleweight Contest
Groves wins by fourth round TKO and improves to 6 wins (5 by KO) and no losses while Jonkus drops to 4 wins (3 by KO) 5 losses (1 by KO)
Chris Mullen (Sunderland) v William Warburton (Manchester)
4 x 3 Welterweight Contest
Mullen wins on points 40-37 and improves to 6 wins (2 by KO) and 1 loss. Warburton drops to 1 win, 5 losses (1 by KO) and 1 draw
Travis Dickinson (Durham) v Steffen Hughes (Staines)
4 x 3 Light Heavyweight Contest
Debutant Hughes lasted just 40 seconds against Dickinson, who scored a TKO round one. Dickinson improves to 4 wins (3 by KO) and no losses.
Jon-Lewis Dickinson (Durham) v Martin Grainger (Heywood)
4 x 3 Cruiserweight Contest
Dickinson wins on points 40-37 to improve to 5 wins and no losses. Grid Grainger drops to 3 wins (1 by KO) and 2 losses (1 by KO).
George Watson (South Shields) v Kristian Laight (Nuneaton)
4 x 3 Light Welterweight Contest
Razor Watson wins on points 40-36. He improves to 7 wins (1 by KO),1 loss and 1 draw. Laight drops to 6 wins, 67 losses (3 by KO) and 5 draws
Kirk Goodins (Sunderland) v Sid Razak (Birmingham)
Debutant Goodins notched up his first win against experienced Razak. Goodins wins on points 40-36. Razak's record falls to 4 wins (1 by KO) and 34 losses (2 by KO).