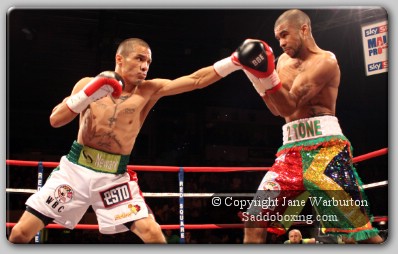 Click the image to view all photos from this Event
Friday night, at the SkyDome in Coventry, England, Frank Maloney hosted an all-action fightcard which headlined the Super Bantamweight Title Eliminator between Rendall Munroe of Leicester and Victor Terrazas of Mexico.
Munroe enters the ring to 'My Old Mans a Dustman!' followed by the Bob Marley classic 'Jammin'. A sea of fluorescent jackets awaited the Boxing Binman from Leicester.
Terrazas – fighting outside of Mexico for the first time – looked relaxed as he entered the ring. I did think it was a shame he was met with a crescendo of 'boos' – this man had travelled for nearly four days to get here for the fight and deserved a bit more credit (!)
It was a good first round for Terrazas, who's left straight jab was noticeable from the start. Munroe was less busy – sussing out his opponent. The second round is much the same but Munroe lands a decent left-right at the end of the round, which sees the Mexican's head rock back.
Terrazas continues to look confident in the fourth and lands a couple of body-shots, but in the last half minute of the round the Mexican touches down briefly after a wide sweeping shot from 'TwoTone'. It looks to have hit the back of the head as Terrazas dips low – and he rubs his head as he looks to Referee John Keane. Terrazas ends the round strongly.
Munroe starts the fifth better – landing a good left to the nose of his opponent. Mid-way through the round, he pressures Terrazas, landing a left which again rocks back his opponent's head. The crowds erupt as Terrazas is forced to cover up while Munroe attacks. Both men tangle together and the crowds begin to chant 'Rendall Munroe'.
The Leicester man is warned for hitting back of head as they start the sixth and immediately after – Terrazas digs in a body-shot, but the following minute sees him backed on the ropes as Munroe pressures him with shot after shot.
The pair don't move from their spot against the ropes for the rest of the round! Munroe is the busier but as they lock together -both men throw body-shots and uppercuts.
Terrazas comes out for the seventh more 'open' as he faces Munroe and (clearly not wanting a repeat of the last round!) he puts some distance between them. But Munroe lands a good left hook and later – a solid right and Terrazas looks briefly at his corner and nods.
The eighth round sees Munroe pressuring Terrazas back on the ropes again, digging in the body-shots and head shots while Terrazas can only cover up. A fantastic round for Rendall Munroe!
Referee John Keane warns Terrazas for holding in the first half-minute of the ninth. Munroe gets to work on Terrazas's body as he forces him back against the ropes again. Landing a body-shot, Terrazas goes down just inside the first minute of the ninth. A huge roar rings out around the SkyDome as Terrazas crouches on the canvas. He finally gets up but doesn't look enthusiastic (!) – Referee John Keane stops the contest – deeming Terrazas unable to continue.
Rendall Munroe wins by ninth round stoppage. His record now stands at 21 wins (9 by KO) with 1 loss. Victor Terrazas drops to 25 wins (13 by KO), 2 losses (2 by KO) and 1 draw.
Afterward, an emotional Munroe dedicated the fight to his Aunt June, who passed away last week. He said that the fight had gone to plan: 'I'm like a steam-train,' he said.
Promoter Frank Maloney said he would try to bring the World Title fight against Toshiaki Nishioka of Japan over to the UK.
Tony Jeffries (Sunderland) v Nathan King (Maintain Ash, Wales)
6 x 3 Super Middleweight Contest
It was a good 'testing' contest for Tony Jeffries of Sunderland as he faced Nathan King of Mountain Ash, Wales. Both men landed with shots throughout the six rounds.
King sustained a cut to the left eye area in the fifth round but landed a solid right to the chin of Jeffries in the final half-minute and the Olympic hero looked dazed for a moment. Jeffries recovers for the sixth and final round and gets the points win 59-56.
Jeffries improves to 6 wins (4 by KO), no losses while King drops to 12 wins (1 by KO) and 16 losses (2 by KO).
Martin Concepcion (Leicester) v Kevin Hammond (Lincoln)
10 x 3 Light Middleweight Contest
Hammond gets off to the better start in this re-match, landing a couple of solid right hooks followed by a left – putting Concepcion on the back-foot mid-way through the round. The start of the second frame sees some good action from both men as they each land punches but Hammond comes off the better of the two.
Just inside the first minute of round three, Hammond clips Concepcion with a left and follows up with a right, Concepcion comes back with some shots of his own but Hammond lands a right and Concepcion is under pressure on the ropes.
A big left followed by a right sees Concepcion drop to his knees briefly. Referee John Keane administers the count and a wobbly Concepcion continues the fight. Hammond gives it all he's got and Concepcion fights back.
Round four and now it's Concepcion who has the upper hand! Hammond covers up while Concepcion throws punch after punch! Hammond's gumshield is retrieved in the last half-minute of the round. Hammond has sustained a cut to the left eye area.
Hammond is under pressure mid-way through the fifth after a right hook landed and Concepcion follows it up.
It's a bit sloppy in the seventh, but both men dig in to land shots in the latter rounds. Concepcion gamboles over on the canvas in the tenth though it's not from a punch. He is wobbled from a big left mid-way through the round and Hammond goes after him!
Concepcion gets the points win 96-94 to retain his Midlands Area Title. His record improves to 17 wins (10 by KO) and 7 losses (4 by KO) while Hammond drops to 8 wins (4 by KO), 3 losses and 1 draw.
Young Mutley (West Bromwich) v Patrick Bogere (Sweden)
8 Round Welterweight Contest
Former British Champion Mutley, who was scheduled to fight John Fewkes, gets the win on points 77-76 against determined last minute opponent - Bogere.
Both men sustained cuts and at the end of the contest Bogere complained that his left shoulder was 'out' and asked team members to 'push it back in'. He later went to hospital with a dislocated shoulder.
Mutley improves to 29 wins (14 by KO) and 5 losses (3 by KO) while Bogere drops to 5 wins (1 by KO) and 1 loss.
Dale Miles (Alfreton) v Darren Askew (Workington)
6 Round Welterweight Contest
Shinfield's boxer Dale Miles scored a fourth round TKO over Askew to add to his undefeated record of 9 wins (6 by KO) and no losses. Askew drops to 6 wins (1 by KO) and 5 losses (1 by KO.
Tony Hill (Southampton) v Matt Hainy (Derby)
4 Round Super Middleweight Contest
Matt Hainy was 'fired-up' for this contest ! He came out looking like he really wanted it – and it paid off. Hainy gets the points win and improves to 6 wins and 1 loss while Hill drops to 4 wins (1 by KO) and 1 loss.
Shane Normoyle (Coventry) v Vinny Woolford (Margate)
4 Round Welterweight Contest
Debutant Normoyle had a tough first contest against Woolford but secured a draw against the Margate man, who was clearly disappointed with the result.
Normoyle gets his first draw while Woolford goes to 3 wins (2 by KO), 2 losses and 1 draw.
James Flinn (Coventry) v Kristian Laight (Nuneaton)
4 Round Light Welterweight Contest
The opening contest of the night sees Flinn win convincingly on points 40-36 over experienced Laight. Flinn improves to 5 wins (1 by KO) and no losses while Laight drops to 6 wins, 74 losses (4 by KO) and 5 draws.
James Mulhern (Coventry) v Kevin Coglan (Darlington)
4 Round Flyweight Contest
Mulhern notched up his third pro-win on points 40-38 against Koglan. Koglan drops to 1 win and 2 losses.
Liam Cameron (Sheffield) v Alex Spitko (Mansfield via Latvia)
4 Round Light Middleweight Contest
After taking some heavy shots in the third round, Spitko was stopped by Referee Shaun Messer. Cameron gets the third round stoppage and improves to 4 wins (1 by KO) and no losses while Spitko drops to 7 wins (5 by KO) and 23 losses (9 by KO).