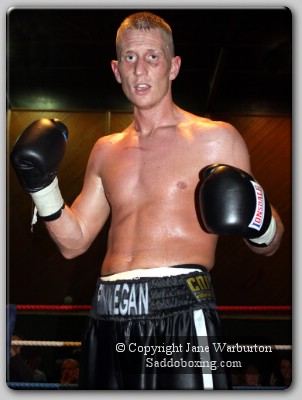 Click the above Image for more Photos from this Event
On Friday night, at Meadowside Leisure Centre in Burton-on-Trent, England, First Team Promotions (PJ Rowson & Errol Johnson) hosted a fightnight which headlined a British Masters Super-Middleweight clash between local man Jonjo Finnegan and Sheffield Boxer - Dean Walker.
Jonjo Finnegan (Burton-on-Trent) v Dean Walker (Sheffield)
10 x 3 Vacant British Masters Super-Middleweight Title Fight
It was a steady start to this Title contest, but Finnegan begins to settle in to the third round – keeping calm and patient. But Walker looks determined and gets in with some decent shots this round. It's a good round four for Finnegan but a nick starts to develop over his right brow by the end of the sixth.
The local man is under pressure at the end of the seventh and during the intermission (as in all the intermissions) – Walker sits listening intently to his trainer and answering instruction calmly.
Both men land with big shots in the eighth and Finnegan looks tired in the ninth but they slug it out at the end of the frame with Finnegan getting the finishing punch – right on the nose (!) as the bell signals the end of this penultimate round.
Both men throw punches right to the finish but they are tired and literally hang on to each other in the tenth but it is Finnegan who gets the points victory to take the Title.
Finnegan improves to 13 wins 5 losses (2 by KO) 3 draws. Walker drops to 12 wins (1 by KO) 25 losses (8 by KO) 3 draws.
Duane Parker (Woodville, Derbyshire) v Ryan Clark (Waddington, Lincolnshire)
4 x 3 Middleweight Contest
It was a thrilling first round in this four rounder as either man could have been knocked out by the big shots going in!mParker settles in to the second round using big swinging lefts but both men 'tee off' together and for a split-second we wonder who will come off best (!).
Clarks gumshield flies through the air in the last half-minute of the third round, then Parker 'goes for it' and both men slug it out. The noise inside the Meadowside Centre is so loud that hardly anyone hears the bell and fighting continues. It was a thrilling fight right to the end of the fourth, but Parker gets the points win. Both men are applauded for their efforts.
Parker keeps his unbeaten – 11 win – record, while Clark drops to 1 win 20 losses (1 by KO) and 2 draws.
Ty Mitchell (Derby) v Bobby Wood (Walsall)
6 x 2 Light-Heavyweight Contest
Young Ty Mitchell entered the ring alongside Father and Trainer – Clifton Mitchell. After a cautious start, Mitchell finishes the round well – putting Wood under pressure in the closing seconds of the first frame. But Wood is down in the second round and cannot make the count.
Mitchell wins by KO round 2, to notch up his second pro-win. Wood drops to 4 wins 3 losses (2 by KO).
Luke Gallear (Derby) v Karl Taylor (Birmingham)
6 x 2 Welterweight Contest
It was a fast-action first round for these two men with veteran Taylor pressuring Gallear on the ropes at the end of the first round, but Gallear comes out 'fired-up' for the second frame. Taylor isn't happy with the 'hitting back of head and the fight gets a little 'scrappy' in the mid-rounds.
The sixth and final round was a slug-fest with Taylor sustaining a bloody nose by the end. Gallear gets the points win but the Birmingham man clearly isn't happy with the decision.
Gallear improves to 2 wins 3 losses (1 by KO) and 1 draw. Taylor drops to 16 wins (4 by KO) 142 losses (34 by KO) and 7 draws.
Lee Glover (Tipton) v Stoyan Serbezov (Bulgaria)
4 x 3 Featherweight Contest
It was an impressive start for 'Tipton Slasher' Glover who's opponent looked like he wouldn't last long. Glover's 'pivots' made for some nice footwork. In the second frame, Serbezov looked close to being stopped – dazed as he is forced to cover-up from an onslaught by Glover.
Glover loses his gum-shield in the second round and then is sent crashing backwards on the canvas in the third – but it's more of a shove from his opponent and the knockdown isn't counted.
Glover gets the clear points win and improves to 3 wins (1 by KO) no losses, while Serbezov drops to 4 wins (3 by KO) 13 losses.
Rhys Davies (Coventry) v Tayar Mehmed (Bulgaria)
4 x 3 Cruiserweight Contest
There was big support for 'Chocolate' Davies who entered the ring with a blue scarf draped over much of his face (!).
The fight starts and Davies has his Bulgarian opponent on the canvas inside the first minute of the opener. Moments later and Mehmed's gum-shield is knocked out. Davies continues to dominate with clubbing shots in the second.
Mehmed loses his gumshield again in the third and was subjected to big swinging overhand rights, followed by body-shots. The Bulgarian did well to see it through to the end of the contest.
Davies gets the points win and improves to 3 wins no losses and 1 draw, while Mehmed drops to 3 wins 6 losses (1 by KO) and 1 draw.