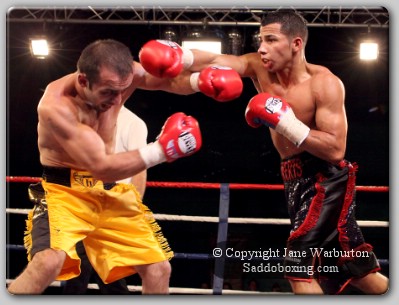 Click the above Image for more Photos from this Event
Saturday night, at the Castle Leisure Centre, Bury, England, Robert Waterman promoted a six-bout event which headlined the International Masters Featherweight Title between Rhys Roberts of Manchester and George Gachechiladze of Georgia.
Rhys Roberts (Manchester) v George Gachechiladze (Georgia)
Vacant International Masters Featherweight Title
Rhys 'Pure Silk' Roberts looked the classier boxer in this ten round Title contest, but Georgian – Gachechiladze didn't look fazed by him and when Roberts lands at the end of the second frame..Gachechiladze 'wiggles' in show-boat style as if to say 'is that all you've got?'
Gachechiladze continued to try and distract Roberts with his show-boating in the third and Roberts returns with a couple of decent shots which are rewarded with another 'shimmy' from the Georgian!
Roberts is urged to use the jab more by his corner and the fight continues. The final round is messy with lots of holding on. At the end of the tenth, Roberts drops to his knees to do some push-ups on the canvas! Roberts secures the points win (100-90) to win the Title and improves to 12 wins (2 by KO) while Gachechiladze drops to 6 wins (1 by KO) 4 losses (2 by KO)
Craig Watson (Manchester) v Vasile Surcica (Barcelona)
8 Rounds Light Middleweight Contest
Southpaw Watson remained focussed as he faced Romanian-born Surcica. The Boxer from Barcelona, Spain, touched gloves with Watson throughout the contest and enjoyed a little 'shimmying' and 'winking' at anyone who'd catch his eye! But Watson was unfazed by his opponent's antics, staying calm and concentrating on the job in hand. Watson was the one 'driving' this contest with Surcica happy to wait for Watson's move. Round three and Watson stumbles over his opponents feet but is straight back up to resume fighting. But the Manchester man has settled in to the fight now and seems to enjoy picking a variety of shots and moves. In the fourth, Watsons gloves are low as he gains confidence but Surcica gets in with a left to the right cheek of Watson but moments later Watson returns with a couple of decent lefts of his own. Watson is the busier fighter. With just under a minute of the fifth gone - Watson gets in with a couple of decent shots and Surcia holds his opponents arm for a few seconds. Surcica looks across at Watsons corner and says something like 'It's ok', adding a grin and a wink!
Surcica lands a peach of a left shot right on the bell at the end of the seventh, but it's been a controlled fight by Watson, who jumps in with a shot then 'walks away'.
Surcica momentarily falls back on the canvas mid-way through the eighth and final round. He immediately jumps up and looks surprised to be counted but Watson did land with a shot although not cleanly. It's a strong last round for Craig Watson who gets the points win (80-71)
Watson improves to 19 wins (8 by KO) 3 losses (1 by KO) while Surcica drops to 13 wins (5 by KO) 31 losses (4 by KO) 2 draws
Danny McIntosh (Norwich) v Hastings Rasani (Birmingham)
6 Round Cruiserweight Contest
Current Light-Heavyweight English Champion - McIntosh, faced Zimbabwe-born Rasani, who (despite scoring a couple of shots in the first round to an open-guarded McIntosh) – was dominated by the Norwich man and finds himself on the canvas as the bell ends the first – from a slip.
McIntosh looks super-confident and relaxed in the second frame – snapping out the left jab to the face of Rasani. After slipping down / half man-handled down in the third round – Rasani is helped up by his opponent, but just seconds later is under pressure from a number of head-shots as he is backed up against the ropes. Referee John Latham jumps in to stop the contest must to the protestations of Rasani.
McIntosh wins by third round stoppage. His record improves to 12 wins (6 by KO) 1 loss (1 by KO) while Hastings drops to 23 wins (16 by KO) 55 losses (21 by KO) 4 draws.
Maxine McCarthy (Salford) v Polina Pencheva (Bulgaria)
4 Round Featherweight Contest
A messy fight between these two – with lots of throwing but little landing. Still, Mad Max McCarthy notches up her third pro-win on points (39-37) while Pencheva drops to 1 win 1 loss and 1 draw
Tom Doran (Connahs Quay) v Terry Adams (Birmingham)
4 Round Light Middleweight Contest
The first punch thrown in the opening round sees Adams on the canvas! He did well to keep upright but was then subjected to – literally – a beating in the neutral corner which seemed to go on for a long time. 'Stop the contest' someone shouted behind me and Adams went down to the canvas again. His corner was poised to throw the towel but Referee Latham waved off the contest. A quick end to the night for Tom Doran!
Doran improves to 7 wins (1 by KO) while Adams drops to 6 wins (2 by KO) 16 losses (10 by KO) and 1 draw
Joe Collins (Macclesfield) v Andrew Patterson (Birmingham)
4 Round Welterweight Contest
Paddy Pattersons shots were wild and swinging at times but he still landed them and by the end of the third - both men were bloody. 'Crackers' Collins was worse off – sustaining what appeared to be a broken nose and trainer Bob Shannon retired him on his stool the end of the third.
'Paddy' Patterson wins by third round retirement. He improves to 3 wins (3 by KO) 12 losses (2 by KO) and 3 Draws, while Collins drops to 1 win and 1 loss.