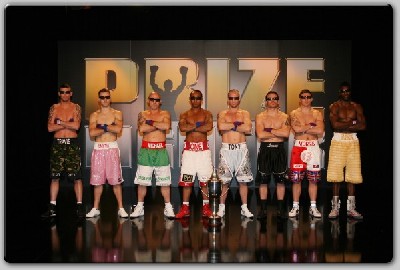 © Lawrence Lustig
The fighters in the line-up for Prizefighter Light-Heavyweights II show at Olympia in London on January 29 were put through their paces by Sky Sports – and each admitted their desire to fight for a major title after lifting the trophy.
The eight boxers headed to Sky's studios in London on Wednesday (January 12) to start the promotional campaign ahead of the 16th edition of Matchroom Sport's eight-man, one-night tournaments – donning their special 3D glasses as the show becomes Sky Sports' second boxing event to be broadcast in 3D.
The line-up for the show is one of the most competitive since the show's inception and with the Light-Heavyweight scene in Britain ready to be attacked by the winner, the fighters are aware that along with the £32,000 winner's cheque, they could be launched to the head of the queue for a title shot.
"All this stuff at Sky has been brilliant," said Menay Edwards, the unbeaten fighter from Kent. "This is what I talked to my trainer about four years ago, all the promo work, the cameras and the interviews – I don't see the point of aiming for something and doing it half-heartedly, I want to go all the way in boxing and today has been a taste of what it's like at the top and I want more of it."
The most experienced fighter in the line-up, Surrey-based Pole Michael Banbula, singled out Commonwealth title holder Tony Bellew and Sunderland's Olympian favourite Tony Jeffries as targets should he lift the trophy.
"I would love a rematch with Jeffries but the dream would be a fight with Bellew for the Commonwealth title," said the veteran of 40-fights, who drew with Jeffries last July. "If I win Prizefighter then I know I can get a big shot – money comes and goes but the chance to fight for that title would be brilliant."
One man in the line-up who is no stranger to title shots is former British champion Tony Dodson, the Liverpudlian who enters the night after close fought tussles with local rivals Tony Quigley and Paul Smith in British title fights. The 30 year-old has the bit between his teeth again and said he is eager to get into battle to avenge those losses and earn another crack at the British belt.
"I should have beaten Quigley, I dominated that fight and it wasn't even close on points, even with the knockdown," said Dodson, who was stopped by Quigley in the 12th. "With the Smith fight, I took a negative approach to it and I didn't do enough work. At the end of the 12th I stood there and thought, 'I should've put my foot down there.' I don't want to take anything away from either Tony or Paul though, they both beat me and I'm friends with the pair of them. But I said it when they started coming through and I'll say it again – I'll still be here when they are gone and I'm ready for another shot."
Dodson is fighting with Travis Dickinson for early favouritism with the bookies – the 22 year-old from Durham is unbeaten from his first seven fights as a pro and is hoping to follow his brother Jon-Lewis onto the winner's roster after his older sibling claimed the Cruiserweights II title in April 2010.
Joining Edwards and Dickinson as unbeaten fighters in the line-up are former Wales amateur captain Llewellyn Davies has five wins to his name with three KOs, and popular Romford man Billy Slate is undefeated after his opening two fights as he kicks off his career at 28.
St. Albans boxer Joe Smyth will be aiming to build on a 7-1 record and Jack Morris was recently confirmed as the final fighter in the line-up. He has revenge in his sights as the only defeat in his six-fight career came in his debut against Banbula.
Tickets for the Prizefighter Light-Heavyweights II are on sale now, with tickets starting at £20 and £30, ringside tickets at £40 and £50, and VIP packages at £120 – tickets are on sale at SeeTickets.com or through Matchroom Sport on 01277 359900.