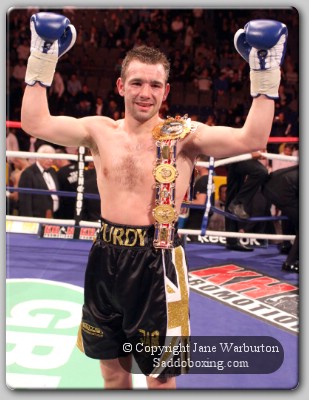 © Click Image for more photos by Jane Warburton
Saturday night, at the MEN Arena, Manchester, Khan Promotions / Hatton Promotions and Golden Boy hosted a fight-night which also featured Craig Watson's defence of the British Welterweight Title.
Watson of Manchester faced Lee 'Lights Out' Purdy of Colchester. This was Watson's first defence of the title he won in February when he out-pointed John O'Donnell.
A steady opening round sees Southpaw Watson confidently throwing shots and doing his usual 'walk-off' while Purdy kept a high guard and looked to be patiently 'weighing-up' his opponent. The Colchester man seems to be 'waiting' for a gap and it comes soon enough as he clips Watson with a right hook to the face mid-way through the opener. The shot rocks back the head of Watson and he has already sustained what looks like a graze below the right eye.
Round two and Purdy just misses a couple of times with swinging punches as Watson neatly dodges the shots. Purdy keeps centre of ring – keeping Watson on the back-foot.
Round three and Watson gets in with a right as he's backed up in the corner. He gives a little smile of self-congratulation as if to say 'yeah – have some of that!'
Purdy seems to be stalking Watson as they begin the fourth, maybe he's looking to land a big right (?) Watson is the busier of the two men but Purdy picks up the pace in the final minute of the round – pressuring Watson and landing clubbing lefts and rights to the head. "Great round, Lee, Great round!" his corner shouts.
With just half a minute of the fifth round gone – Purdy finally gets to land his trademark right, bang on the chin. Watson goes down but immediately gets to his feet again – clearly dazed and confused. Referee Phil Edwards waves a halt to the contest – Watson in no condition to continue and Team Purdy celebrates. A visibly emotional Lee Purdy (aptly named – 'Lights Out' !) wins the British Welterweight Title by fifth round TKO.
His record now stands at 15 wins (8 by KO) 2 losses and 1 draw, while Watson drops to 20 wins (8 by KO) 4 losses (2 by KO).