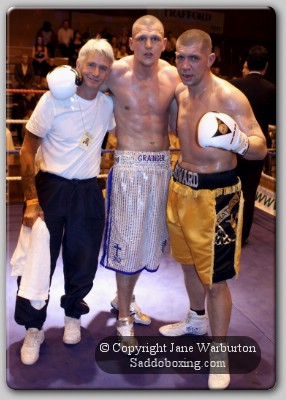 © Click the above image for more images from Jane Warburton
Last night, at the George Carnall Leisure Centre, Manchester, Steve Wood / VIP Promotions hosted a five-card fightnight.
The headliner should have been between Martyn Grainger and Nick Okoth, but a last minute change of opponent saw Grainger facing Howard Daley instead.
Mark Evans (Anglesey) v Steve Gethin (Walsall)
6 x 2 Super-Featherweight Contest
Evans secures his second pro win on points 60-54 against experienced Gethin.
Gethin's record now stands at 11 wins (6 by KO) 62 losses (11 by KO) and 3 draws.
Aaron Michael jnr (Middleton) v Ryan Clark (Waddington)
4 x 3 Super-Middleweight Contest
Clark proved a tricky customer for the Middleton man. Clark spent most of the fight 'drawing' his opponent in – while Michael kept busy with punches and Clark edged around the ropes. Round three and Clark is beckoning to Michael again – calling him in – "Come on, then, is that all you've got?" he taunted. He continued to talk to Clark even after Referee Steve Gray told him to 'shut up'! "Come on, come and hit me" he continues.
Aaron gets the win on points 39-37 and improves to 2 wins (1 by KO) while Clark drops to 1 win 34 losses (2 by KO) and 4 draws.
Martyn Grainger (Heywood) v Howard Daley (Preston)
6 x 2 Cruiserweight Contest
'Grid' Grainger was probably just relieved to be getting a fight at all – as he faced late opponent Daley. Grainger keeps his cool as Daley lunges in low.
Grainger gets the deserved points win 60-54 and improves to 6 wins (2 by KO) 4 losses (2 by KO) while Daley drops to 2 wins (1 by KO) 25 losses (8 by KO) and 2 draws.
Ashley Mayall (Oldham) v Kristian Laight (Nuneaton)
6 x 2 Lightweight Contest
Debutant 'Ash' gets 'off the mark' with a points win 60-56 over likeable Laight. But it was no easy ride for the Oldham man against the experienced Laight – who always looks like he's having fun with his opponents (!) Laight slips on the canvas in the third and Mayall reacts by delivering some decent body-shots. Laight starts to showboat a little in the fourth – taunting his opponent with laughs and shimmies, but the debutant keeps focussed to secure the points win.
Laight's record now stands at 6 wins 97 losses (4 by KO) and 6 draws.
Maxine McCarthy (Salford) v Galina Gumliiska (Sofia, Bulgaria)
4 x 2 Lightweight Contest
A messy fight between 'Mad Max' and Bulgarian – Gumliiska. McCarthy – warned a number of times for hitting after being told to break and Gumliiska struggling to keep her dignity with a loosely fitting vest top (!) McCarthy – spurred on by rowdy support – has most success with the swinging right to the head of the Bulgarian, but it's not a great fight to watch.
McCarthy wins on points 40-36 and improves to 5 wins no losses, while Gumliiska drops to 8 wins (1 by KO) 21 losses (6 by KO).