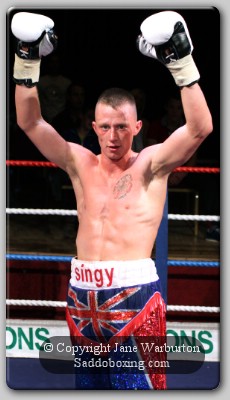 © Click the above image for more images from Jane Warburton
Sunday afternoon, at the Municipal Hall (Muni) Colne, Steve Wood / VIP Promotions hosted a fight-card which featured four bouts.
As always, it was a good atmosphere and a great way to spend a Sunday afternoon!
The contest between Stevie Taylor and Carl Wilson did not go ahead because Taylor had Appendicitis.
Ali Shah (Blackburn) v Carl Allen (Wolverhampton)
4 x 3 Welterweight Contest
Southpaw – Shah, who hadn't fought in 15 months, faced tough veteran Allen in a four round contest. With 'bags of attitude' - the Blackburn man starts to 'showboat' in the second frame and throws some sweeping roundhouse shots. Allen – who seems to have as much vocal support from the Colne crowd as Shah – is forced to take a breather in the third frame from a low blow. Finding further success with a long-reaching uppercut - Shah gets the points win (40-37) and improves to 6 wins (2 by KO) while Allen's record now stands at 18 wins (5 by KO) 96 losses (15 by KO) and 7 draws.
Kenny Anderson (Edinburgh) v Joe Rea (Birmingham)
6 x 3 Super-Middleweight Contest
Despite the win, I didn't think Anderson looked overly confident at Colne – like he was holding himself back a bit. He landed with lefts and rights to the head of his Irish-born opponent and finds success with shots to the mid-body. But Joe 'Sugar' Rea began to taunt the Scotsman - 'winding-up' a few shots in the fourth, maybe that's why he retired with a shoulder injury at the end of that frame (!)
Anderson wins on the retirement of Rea and improves to 13 wins (9 by KO) 1 loss (1 by KO), while Rea drops to 7 wins (4 by KO) 5 losses (3 by KO) and 1 draw
Luke Blackledge (Accrington) v Phil Goodwin (Hull)
4 x 3 Super-Middleweight Contest
Blackledge (aka Robbo) faced late opponent Goodwin who'd had just a few hours notice and had travelled from Hull.
Goodwin gets a bloody nose in the second and - looking tired – the Hull boxer finds himself on his knees in the third, it's a no knockdown though and he slowly gets to his feet – looking very weary. The nose is a mess too by now and he must have been glad there was only one round left.
Blackledge wins convincingly on points 40-36 and improves to 4 wins (1 by KO) while Goodwin drops to 6 wins (2 by KO) 6 losses (2 by KO)
Shayne Singleton (Colne) v William Warburton (Atherton)
6 x 3 Welterweight Contest
Shayne 'The Pain' (aka Singy) always has a good crowd support behind him and yesterday was no exception – although there was a tinge of sadness as Singleton honoured his deceased friend – Gary, before boxing commenced - insisting the crowds join him in applause.
A smiling Singleton looked confident as he faced his opponent. Warburton though (who always 'comes to have a go') for me – gave one of his best performances to date. Almost cobra-like – he squirmed out of Singleton's reach. He lands a decent left in the first round and Singleton clearly 'felt' it, but the local man came back with a decent shot of his own to settle the score. Singleton then lands a good shot near the end of the second frame and steps it up a gear in the third. Warburton goes down to the canvas but it's a no knockdown.
Singy, with long reaching shots targets the head and – as Warburton leans back – the Colne boxer lands a right hook just behind the left ear of his opponent (he seemed to look for that gap a few times).
A good all-action fight between both men, Singleton getting the points win 60-54 much to the delight of the Singy supporters.
Singleton improves to 8 wins (2 by KO) while Warburton's record stands at 3 wins 21 losses (2 by KO) and 2 draws.