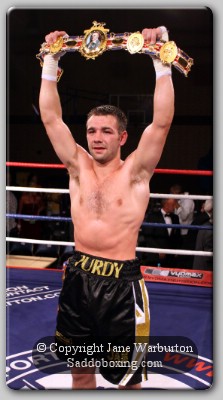 Click the above Image for more Photos from this Event
Saturday night, at Oldham Leisure Centre, England, Hatton Promotions hosted a fight-night which featured two Title bouts.
The much anticipated rematch between Lee Purdy of Colchester and Craig Watson of Manchester saw 'Lights out' Purdy retain his belt with a focussed performance over popular Oldham-born Watson.
Watson – on the canvas from a body-shot in the fifth – got up for the count but was forced to stop moments later.
Purdy improves to 16 wins (9 by KO) 2 losses and 1 draw, while Watson drops to 20 wins (8 by KO) 5 losses (3 by KO).
The second Title fight saw Ingle Boxer – Bob Ajisafe of Leeds, take the vacant English Light-Heavyweight Title when Darren Stubbs of Shaw, Lancashire, sustained a bad cut to the left eye in round three.
Ajisafe improves to 9 wins (3 by KO) and 2 losses, while Stubbs drops to 21 wins (8 by KO) 6 losses (3 by KO).
And Manchester-born Denton Vassell won his six round Welterweight Contest when he out-pointed Nicaraguan-born Italian - Ronny McField.
McField (who seemed nervous as he stepped in to the ring) – was on the canvas inside the first half minute – but it was a slip. Vassell starts to target the body and McField is already doing a bit of grabbing early on in the fight.
Vassell gets the deserved points win 60-54. He improves to 18 wins (9 by KO) no losses while McField drops to 13 wins (10 by KO) 11 losses (1 by KO) and 2 draws.
Dean Halsall (Preston) v Ryan Clark (Waddington)
4 x 3 Middleweight Contest
Halsall gets straight to work as they come out for this four-rounder, but a big right hook sends him stumbling backwards inside the first minute of the opener.
Despite a bloody nose in the second frame, 'Fearless' Clark calls his opponent 'on' – looking for another big right. Halsall picks it up in this round but there's verbal taunting between the two men as they end the frame.
Clark lands another slamming left and right in the third but Halsall perseveres to get the points win 40-36 to notch up his third pro-win.
Clark's record now stands at 1 win 35 losses (2 by KO) and 4 draws.
Austin Hornsby (Manchester) v Billy Smith (Stourport)
4 x 3 Welterweight Contest
'Oz' faced last minute opponent 'Gypsy Boy Smith' in this four round Welterweight contest. Hornsby has a steady contest, keeping the busier of the two men, but experienced Smith gave him a testing fight. Using both left and right jab and going for the body in the third – Hornsby secures the points win 40-36.
Hornsby improves to 5 wins no losses while Smith's record is now 12 wins 96 losses (8 by KO) and 2 draws.
Matthew Clarkson (Preston) v James Tucker (Doncaster)
4 x 3 Light-Heavyweight Contest
'Magic Matty' Clarkson secured the points win over Tucker but it was a 'twitchy' start between these two men with little action in the opener. Clarkson 'picks it up' in the second and third rounds. Tucker goes in with a swinging over head left and right and Clarkson goes in for the body. Tucker gets a cut to the bridge of his nose.
Clarkson gets the points win and improves to 3 wins no losses while Tucker's record stands at 3 wins (1 by KO) 41 losses (2 by KO) and 3 draws.