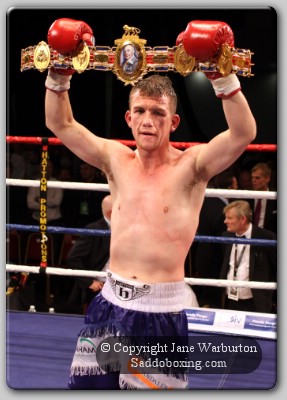 Click the above Image for more Photos from this Event
Gary Sykes (Dewsbury) v Gary Buckland (Cardiff, Wales)
BBBofC British Super-Featherweight Title
The much anticipated duel between Gary Sykes and Gary Buckland did not disappoint! It was a thrilling all-action contest with performances that both men should be proud of.
As the fight begins, Sykes almost stumbles back immediately at the start of the first as Buckland strikes first. The Welshman looked sharp and determined from the 'off' and catches Sykes with a left hook just inside the opening minute which sends a clear message – that he was ready and he meant business!
Sykes (for me – in my ringside photographers position) seemed to struggle at first to get in to a rhythm, but he does begin to settle in after a couple of rounds.
Buckland lands a great uppercut mid-way through the third which snaps Sykesy's head back, but every round is non-stop action and the crowd are treated to an exciting fight. The punches were cringeworthy – looking far worse from my position live than when I watched back afterwards, and I was surprised how fresh both men still looked past the sixth round despite the action.
In the closing seconds of the seventh frame, Buckland lands a 'cute' left to the chin of the Dewsbury man.
The action continues and the crowd roars it's appreciation! Sykes lands a great right to the chin of Buckland in the last second of the tenth round and the Sykes supporters cheer.
A big sweeping right to the face of Sykes sees him 'totter' for a split second at the start of the eleventh and Buckland lays in to him – falling over in his enthusiasm.
It turns in to a bit of a 'brawl' and then they both 'go for it' in the twelfth and final round, with Sykes ending the frame with a peach of a shot that momentarily seems to 'stun' the Welshman.
All action – right to the end, a great contest between two very fit and feisty boxers!
Dynamo Buckland gets the Unanimous Points Decision: 115-114; 115-113; 116-113.
Buckland improves to 24 wins (8 by KO) 2 losses (1 by KO)
Gary Sykes record now stands at 19 wins (5 by KO) 2 losses (1 by KO)
Rendall Munroe (Leicester) v Ryuta Miyagi (Osaka, Japan)
10 x 3 Super-Bantamweight Contest
2Tone Munroe gets straight to work - landing a left to the open face of Miyagi inside the opening minute. It's a hesitant start from the Japanese Boxer as Munroe lands with another notable left to the head as the first frame ends.
A relaxed-looking Munroe continues to control the fight in subsequent rounds. Miyagi never looked dangerous – he missed his target a number of times, lacking power and speed in his shots. Miyagi sustains a cut to the right eye in the tenth, but he looked to have saved most of his punches for this final round!
It was a focussed and confident fight from Rendall Munroe who wins on points 98-92.
Munroe improves to 23 wins (9 by KO) 2 losses, while Miyagi drops to 21 wins (16 by KO) 6 losses (4 by KO) 4 draws.
Richard Towers (Sheffield) v Yuri Bihoutseu (Belarus)
8 x 3 Heavyweight Contest
Towers added another knock-out performance to his record when he scored a third round TKO over Belarusian Bihoutseu.
Towers improves to 12 wins (9 by KO) while Bihoutseu's record now stands at 5 wins (5 by KO) and 1 loss (1 by KO) and 1 draw.
Scott Jenkins (Chesterfield) v Steve Gethin (Walsall)
4 x 3 Lightweight Contest
Gethin was forced to retire in the second round with a shoulder injury.
Jenkins wins his second pro-fight, while Gethin drops to 11 wins (6 by KO) 64 losses (12 by KO) and 3 draws.
Justyn Hugh (Newport, Wales) v Carl Wild (Sheffield)
4 x 3 Light Heavyweight Contest
A cracking 'punch-up' between these two resulted in a draw 38-38.
Hugh's record now stands at 9 wins (2 by KO) no losses and 1 draw.
Wild's record is now 10 wins (1 by KO) 16 losses (5 by KO) and 4 draws.
Tommy Stubbs (Oldham) v Anwar Alfadli (Sheffield)
4 x 3 Super Bantamweight Contest
Debutant '2Slick' Tommy Stubbs – got off-the-mark with a points win over tricky Ingle-Boxer Alfadli.
Alfadli's record is now 1 win 17 losses (2 by KO) and 2 draws.
Adam Etches (Sheffield) v Yauheni Abdurazakau (Belarus)
4 x 3 Light Middleweight Contest
Bomber Etches secured a points win 40-36 over Belarusian – Abdurazakau.
Etches improves to 5 wins (3 by KO) while Abdurazakau drops to 8 wins (3 by KO) and 7 losses.
Jez Wilson (Sheffield) v Jay Morris (Newport, Isle of Wight)
4 x 3 Light Welterweight Contest
Wilson made quick work of Morris – securing a stoppage in round one. Morris had taken a body-shot and seemed to hesitate. Referee Michael Alexander stepped in to stop the fight – despite Morris's protests.
Wilson improves to 8 wins (5 by KO) 1 loss (1 by KO) and 1 draw.
Morris's record now stands at 15 wins (4 by KO) 21 losses (10 by KO) and 2 draws.