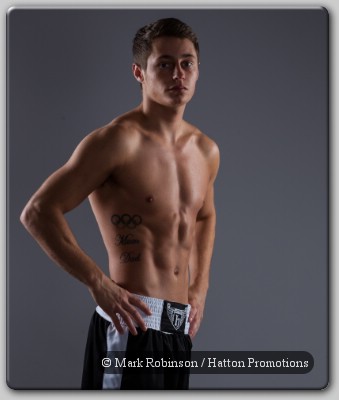 Irish sensation Ryan Burnett says preparation for his next fight could not have gone any better.
The 21-year-old bantamweight, who won an incredible 94 of his 98 amateur bouts, has his third professional outing on the undercard of Carl Frampton's clash with Jeremy Parodi at Belfast's Odyssey Arena on Saturday night.
And he's readied himself by getting invaluable sparring with a very familiar four-time world champion.
Ricky Hatton has trained Burnett since he signed with Hatton Promotions in January 2012, but earlier this month 'The Hitman' got his gloves back on and engaged in several rounds with the prospect.
"Sparring Ricky was great," Burnett said. "Every time I made a mistake he made me pay for it. He saw areas where I was going wrong, hit me and then told me to remember what I'd done and what we'd already worked on.
"I could feel myself learning and not making those mistakes, which was great. I couldn't have hoped to be in with anyone with more experience. I've now got to make sure that everything Ricky's taught me comes together this weekend."
As well as being Burnett's second fight in his home city, Saturday night will also be the young puncher's TV debut as the bill is being broadcast by BoxNation (Sky Ch. 437/Virgin Ch. 546).
"TV is something I need to be on and I can't wait for this Saturday," he said. "I'm more excited than normal because it means the boxing world is going to find out what I'm about."
Providing everything goes to plan this weekend, Ryan will be out again on the Hatton Promotions/ World Sport Promotion bill in Vratsa, Bulgaria, on November 16, headlined by Sergey Rabchenko's eagerly anticipated European light-middleweight title rematch with tough Frenchman Cedric Vitu.