**With Slideshow**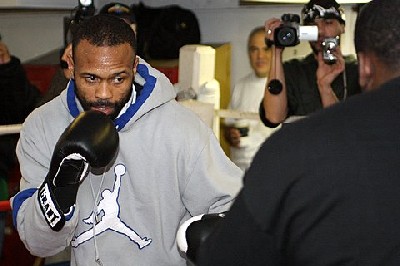 © Jim Everett / Saddo Boxing
Eight-Time World Champion, Roy Jones, Jr. 51-4 (38) laughed as the media sang happy birthday to him as he celebrated his 39th birthday today at Kingsway Boxing Gym in New York City in preparation for Saturday's "Bring on the Titans" boxing card at Madison Square Garden where he will face Felix Trinidad 42-2 (35).
Jones has a special gift in mind, "The best birthday present for me would be a knock out on Saturday night. Tito's fighting the toughest fight of his career. He picked me to get up for this fight. He knows I'm a guy who normally beats him so he knows what type of shape he's got to get in to step into the ring with me."
"Ain't nobody got the speed to handle me. Only Floyd Mayweather comes close to me and he's still 10 miles an hour slower," said Jones as he put on an impressive display on the hand pads.
"I feel good. Now is just the waiting.You fight the fight a bunch of times in your head and I think of different ways to do it. I have several options and every night I think of a different option."
Heavyweights Andrew Golota 40-6-1 (33) and his opponent Mike Mollo 19-1 (12) were both present at the gym completing a light workout for the media.
Golota looked strong during his workout and felt confident in a victory on Saturday, "He says he wants to start fast and be aggressive. I feel the same. It's better for me because now I know what he is going to try to do. Mollo's a good fighter and I know he wants to win. How is he going to win? Be there to watch me."
"Everybody is talking about Mollo's speed and his offensive abilities. Why isn't anybody talking about his defense? I guess we'll know more after the first round. It shouldn't go the distance. I can't see it going the distance."
Mollo is ready to step up to the biggest challenge of his career, "I feel like I'm younger and faster and should win the fight. Now I need to get in the ring to prove I'm ready to move to the next level. I fear no one. I have butterflies like I should but no fear."
"Golota's an old fighter. He's been great and I respect him. He's fought in some tremendous fights that have slipped away from him for whatever reason."
Former Jr. Welterweight Champion DeMarcus "Chop Chop" Corley 31-7-1 (17) worked the hand pads with his trainer and did some light shadow boxing in preparation for his undefeated opponent Devon Alexander 13-0 (9) on Saturday's undercard.
Corley looked to be in fantastic shape as he shadowboxed around the ring. He feels he has more at stake than his undefeated challenger and would like a strong victory to catapult back into a title fight, "It's do or die for me right now. I'm fighting on one leg. I'm like a dog with a broken leg. If I lose this one I'm out."
"If I knock this kid Devon Alexander out it would help me. Just getting past him is not enough. I need to knock him out. He and his team have shown me a lot of respect. I appreciate that. After the stare down at the press conference, I told him to bring his "A" game. He asked for me. You gotta be careful what you ask for because you might get it."