**With Slideshow**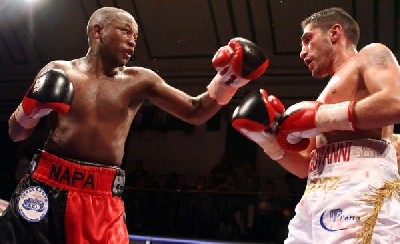 © Jane Warburton / Saddo Boxing
Ian 'Dappa' Napa had his toughest test yet last night when he challenged big-punching Belgian Carmelo Ballone for the European Bantamweight title at the famous York Hall, Bethnal Green, in the East End of London.
The likable Hackney lad entered the ring wearing his usual dark shades and with a female entourage holding his British title belt aloft. The 'Belgian Butcher' Ballone had plenty of support from his own fans who'd made the trip to London. Loud horns were blasting out around the York Hall as he stepped coolly into the ring.
Ballone, the taller of the two having a long-reaching southpaw stance, had the better start - with Napa adopting his usual tight, stiff, defence and being more cautious as he settles in.
Round two and Napa starts using the body-shot, which he lands a number of times against the champion but in the last minute of the frame, referee Erkie Meronen warns both men for low blows.
Ballone's body 'loosens up' in round three as he relaxes into the fight and he dominates the round with some quick counter-punching. Both men are holding and hitting as they start round four, but it's Napa who gets the warning. In the last minute of the fourth, Napa lands a right then left body-shot and Ballone steps away momentarily. The crowds cheer as Napa lands a right punch to the face of his Belgian opponent in the last minute of the frame.
Napa starts the fifth round strongly and lands a good right to the face of Ballone. Ballone sustains a cut to the right eye area and blood starts to flow down his cheek. Referee Meronen calls 'time' and informs ringside officials that the cut was a result of a clash of heads, although this wasn't clear to ringside photographers at the time. This means that it will go to the score-cards if the contest is stopped as a result. Ballone looks concerned by the cut when he sits in his corner.
Napa starts round seven controlling from the centre of the ring. Round eight sees Napa backed on the ropes as Ballone puts on the pressure but the 'Dappa One' lands a sweet left hook amidst the flurry. Mid-way through the round, Ballone takes a couple of steps back after feeling the force of Napa's body-shot. The champion looks tired now and spends the following minute walking backwards away from Napa's advances.
In round nine, Napa eases off on the body-shots, allowing Ballone to recover. Mid-way through round ten, Napa lands a body-shot which sees the Champion drop to his knee. He takes the count and gets back to the fight, but spends much of his time walking backwards away from Napa. Ballone has a very 'open' stance anyway with gloves dropped low, but now - hardly bothering to hold his gloves up to protect himself - the top half of his body is a sitting target for the Londoner.
The twelfth and final round sees Ballone the busier of the two men. It's been a close contest with Napa losing the first few rounds, in my opinion, and not going for the big finish in round twelve.
Sky Sports fight stats indicate that Napa threw more punches, 524 to 483, landed more and had a better success rate, 19% to 16%.
Minutes later, Promoter Frank Maloney jumps for joy as Ian Napa is announced as the new European Bantamweight Champion - winning by majority points decision 114-114, 113-114 and 113-114.
Undercard results last night included:
Light welterweights Ajose Olusegun (Finchley) vs. Mike Frontin (Edmonton)
Southpaw Commonwealth Champion Olusegun won on points over Mauritius born Michael Frontin, 60-55 after six rounds in a non-title bout. A confident Olusegun teased Frontin with some show-boating during the contest and landed some good long-reaching straight rights to the face of his opponent. This secures the Nigerian born Olusegun a perfect 25-0 (12) record.
Lightweights Henry Castle (Salisbury) v s.Graham Earl (Luton)
Former British and Commonwealth Champion Earl went down from Castle's left hook in the first twenty seconds of the opening round. He jumps up to his feet to take the count but moments later is subjected to two or three more left hooks from the Salisbury man. Earl's head seems to rock back every few seconds under the force of Castle's punches.
After just a minute of the round has passed, the referee steps in to stop the contest as Earl is subjected to a number of heavy punches and looks seriously unsteady. An impressive victory from Castle, who wins by stoppage in just 70 seconds of round one. Having made the step up to lightweight, Frank Maloney said Castle was ready for a title shot.
Castle's record now stands at 19-4 (11).
Welterweights Mark Thompson (Manchester) vs. Gatis Skuja (Bethnal Green)
Thompson won on points over Latvian born Gatis Skuja. Thompson had a good first round, then was caught mid-way through round two. A couple of body-shots sees Skuja touch the canvas, then almost stumble over at the end of round four and referee Ian John-Lewis administered the count. Skuja also sustained a cut to the corner of his left eye. It was a better round for Thompson, but he had a small 'scare' in the sixth and final round when he was caught by a left hook to the head. Thompson perseveres to win on points, 60-54, and improves to 17-1 (10).
Super flyweights Ashley Sexton (Hatfield) vs. Delroy Spencer (Walsall)
Popular 'Flash Ash' notched up his second pro-win by outpointing experienced, tough guy Delroy Spencer, 40-36, after four rounds.
Heavyweights Tom Dallas (Chatham) vs. Aleksandrs Selezens (Latvia)
Tom Dallas won his second contest on points, this time over Latvian Aleksandrs Selezens.
Heavyweights David Howe (Sheffield) vs.David Ingleby (Morecombe)
A trimmer looking 'Dingle' scored a first round stoppage over the taller Sheffield boxer. Howe came out looking keen to impress, but Ingleby wasn't impressed! And in the opening half minute, landed a peach of a left hook which sent Howe to the canvas. Seconds later, Ingleby landed a left followed by a right which rocked back the head of Howe over the top rope.
Howe could not make the count and a jubilant Dingle enjoyed his usual 'poses' for ringside photographers! Ingleby wins by knockout in one minute and two seconds of the opening round and improves to 6-22-1 (4).
Heavyweights Larry Olubamiwo (Hackney) vs.Vlado Szabo (Slovakia)
Debutant Olubamiwo impressed when he scored a first round knockout of his Slovakian opponent in 1 minute 39 seconds of the frame having landed a big right. Szabo slowly made the count but was deemed unfit to continue.
Light middleweights Sam Webb (Chislehurst) vs. Gilbert Eastman (Battersea)
It was a sad end to the evening when after having been stopped by Webb in the eighth and final round, Eastman collapsed in his changing room and was rushed to hospital. We have no further news at this stage, but our thoughts go out to the family.