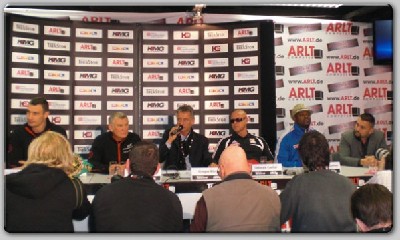 © ARENA Box-Promotion
Five days before the great showdown between WBC Heavyweight Champion Vitali Klitschko and no. 1 contender Juan Carlos Gomez, it was Team Gomez who clearly won the "first round" at today's press conference in Stuttgart.
While Klitschko kept repeating that he will give Gomez a lesson, "which won't last very long", his manager Bernd Bönte had to admit that Team Klitschko actually refused the referee and one judge the WBC had planned to appoint for the fight.
Apparently, the champion and his team are getting nervous with fight day approaching.
"It's funny", stated challenger Gomez. "If Vitali thinks that he will knock me, out why does he even care about the judges at all? I don't care who will be judging the fight. I will beat up 'Dr. Sissi' so bad that there will be no doubt that the 'Black Panther' will be world champion again this coming Saturday. It's Showtime!"
"They can appoint whoever they want", adds Gomez' coach Orlando Cuellar. "This fight won't go the distance. We will stop Vitali and take the belt. Everyone that wants to see Klitschko getting beat up like a schoolboy should watch the fight on Saturday.
"And everyone who hasn't put down money yet – you better place your bet. It has never been easier to make good money. I am looking forward to hearing the ring announcer say after the fight: your winner and new heavyweight champion of the world: Juan Carlos Gomez!"
K2 proudly announced that Vitali's sparring partners, former world champion Chris Byrd and former world title contender Tony Thompson, will be featured on what has been called a "great undercard".
However, the Klitschko management 'forgot' to mention that Byrd will fight nameless German tomato can Mathias Sandow, 4-3, while Thompson steps into the ring against Turkish journeyman Adnan Serin, 19-9.
"I truly believe that this is one of the best undercards K2 has ever had", says Gomez' promoter Ahmet Öner. "Still it's complete bullshit and I wouldn't even dare to present fights like this on any of my shows."