By Robert Brizel December 5th, 2014 All Boxing Interviews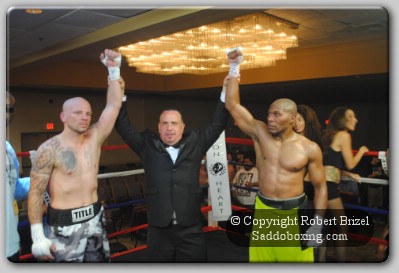 In an exclusive interview with SaddoBoxing, Philadelphia, Pennsylvania veteran middleweight Eric Mitchell, 23-11-2 with 11 knockouts, talked about his two upcoming bouts, including his vacant World Boxing Union 10 round World Middleweight championship bout in January 2015 with Harry Joe Yorgey, a rematch.
Mitchell drew with Yorgey in his last bout in July 2014. The bout with Yorgey, originally scheduled for December 2014, was rescheduled for a month later due a minor hand injury incurred by Yorgey.
Nicknamed 'Murder', Eric Mitchell has been a pro boxer since 1993, over 20 years, and is also the twin brother of retired middleweight boxer Aaron 'Homicide' Mitchell, 27-1, who fought between 1993 and 2008.
SaddoBoxing: Eric, will your WBU championship bout with Harry Joe Yorgey take place on a rescheduled date?
Eric Mitchell: "Yes, I think so. I was told the date will be January 17, 2015, but I am not sure of the venue." More...