By Robert Brizel September 30th, 2012 All Ringside Boxing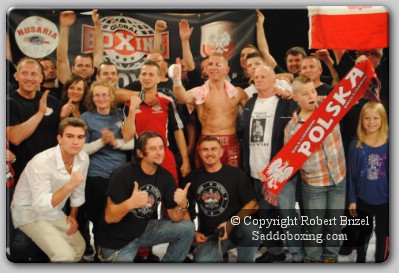 In one of the bloodiest and exciting ring wars ever fought in the Atlantic City hotel casinos, Polish middleweight Patrick Majewski, fighting nearly blind at times with blood from both eyes fought on with heart and instinct to win a ten round majority decision over Latif Mundy in a rematch war. The bout took place at Resorts Hotel and Casino Superstar Theater in Atlantic City, New Jersey, on Saturday evening, September 29, 2012, promoted by Peltz Promotions and Global Boxing.
The two fighters have now gone at it in center ring bloody toe-to-toe for 18 consecutive rounds, with the crowds on their feet. In the rematch, Majewski's NABF Middleweight title was not at stake. Owing to the bloody outcome, Majewski's next bout, scheduled for Poland, will be delayed.
The flow of blood can often confuse judges and make a bout difficult to score. How one judge can score Majewski-Mundy II 95-95 and another 100-90 speaks of a fight bordering on the insane, and the bout emerged as just that due to a head butt which occurred somewhere in the early rounds. The spectacular matchup became a psychological test of will, strength, and courage for Majewski, who knew Mundy had come to win, and was going to test his chin and heart to the final bell.
Majewski won the first round, coming forward and working the left jab often, with Mundy looking to counter with body shots, with limited effectiveness. Both fighters carefully looked for punch scoring opportunities but appeared careful not to punch themselves out. The second round went to center ring, where Mundy came forward and mixed his punches well, forcing Majewski to land jab combinations while moving side to side. Some of the punches went low from both fighters as the bout turned dirty. Referee Benji Esteves Jr. warned both fighters throughout the contest. More...