By Robert Brizel March 18th, 2015 All Boxing Interviews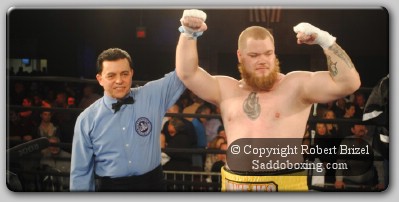 On May 8, 2015, Philadelphia heavyweight Joey Dawejko will face the toughest challenge of his career.
Dawejko, now 14-3-2 with seven knockouts, and 6-0 with four consecutive first round knockouts since signing with Russell Peltz Promotions, will face the dangerous Amir Mansour, 21-1, 16 knockouts, Wilmington, Delaware, for the vacant USA Pennsylvania heavyweight title in the 10 round main event at 2300 Arena in Philadelphia, Pennsylvania.
An eight bout card will be presented by Peltz Promotions, including super featherweight Jason Sosa in a 10 rounder.
In an exclusive SaddoBoxing interview at ringside recently, Dawejko outlined the reasons why he will beat Amir Mansour. In addition to Mansour, UBF All-Americas champion Lyle McDowell recently called out Dawejko in the event that Amir Mansour pulls out.
SaddoBoxing: "Joey, can you beat Amir Mansour?"
Joey Dawejko: "Yes I can! Without a doubt in my mind I will beat him." More...