By Robert Brizel November 21st, 2014 All Boxing Interviews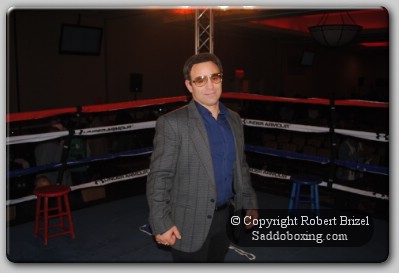 In an exclusive interview with Saddoboxing ringside at Harrah's Philadelphia Casino, on Friday evening, November 14, 2014, Pennsylvania boxing promoter Joey Intrieri AKA 'Joey Eye' as he is professionally known, discussed his rise to prominence as a Philadelphia Pennsylvania boxing promoter, and the status of the Philadelphia area boxing scene today.
Pennsylvania boxing promoter Joey Eye is best known for his role as one of the top cut men in the corner, working with professional boxers in the Northeastern United States. He also ambitiously promotes his own local boxing shows in 'The Room' at Harrah's Philadelphia, located in Chester, Pennsylvania (a Philadelphia suburb), showcasing local prospects on the way up in co-promotion with XFE and other Pennsylvania sports promoters.
Saddoboxing: "Joey, you are well-known in your role as a boxing cutman. How did you you come interested in boxing? Where did it all start?"
Joey Eye: "When I was ten years old, I got to appear in the Rocky II movie. I was one of the kids in the Rocky movie. From that point, I got involved in Pennsylvania mateur boxing, and then professional boxing, as a promoter, cutman and gym owner." More...