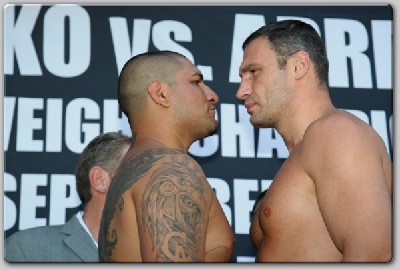 © Jan Sanders / Goossen Tutor Promotions
Unbeaten WBC No. 1-ranked heavyweight Cristobal Arreola pulled a fast one on those watching Thursday's well-attended free open weigh-in at Staples Center in Los Angeles, initially stepping on the scale wearing a shirt and weighing 272 pounds!
Quickly, however, he pulled off his shirt to reveal a weighted vest. Everyone got a good laugh.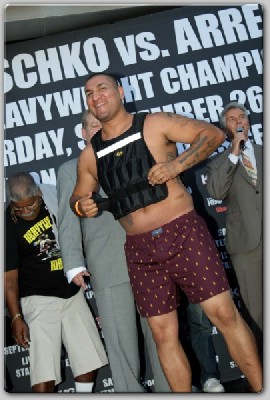 Officially, Arreola weighed in at 251 pounds.
After Arreola got on the scale, WBC heavyweight champion Vitali Klitschko weighed in at 252 pounds.
The champ then faced off and posed with Arreola and checked the gloves during the well-attended free open weigh-in.
In what will be one of the best, most exciting heavyweight title fights in years, the popular Klitschko (37-2, 36 KOs), of Los Angeles, will defend his WBC title against undefeated, No. 1-ranked contender Arreola (27-0, 24 KOs), of Riverside, Calif., by way of East L.A., this Saturday, Sept. 26, at Staples Center.
One of the most recognizable fighters in the world, Klitschko will make history by becoming the first boxer to headline three times at Staples Center.
Arreola (27-0, 24 KOs), who has had only one fight go the distance (24 by KO, two by DQ – on the way to a KO), will try to make history by becoming the first boxer of Mexican descent to capture a world heavyweight championship.
Tickets can be purchased at Staples Center, all TicketMaster outlets, by phone (800) 745-3000 and online at www.ticketmaster.com.
The 12-round world championship will be promoted by K2 Promotions in association with Goossen Tutor Promotions. It will air on HBO at 10 p.m. ET/7 p.m. PT. Doors open at 4 o'clock PT.