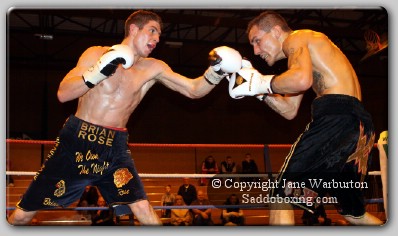 Click the above Image for more Photos
On Sunday, at the GH Carnall Leisure Centre in Urmston, Manchester, England, Steve Wood/VIP Promotions hosted an afternoon's fight-card which headlined an English Light-Middleweight Title clash.
Brian Rose (Blackpool) v Lee Noble ( Barnsley )
Vacant BBBofC English Light-Middleweight Title
Brian 'The Lion' has big crowd support from the Urmston crowd as he faces Ingle-Boxer Noble. Both men 'pick' away during the first few rounds with Noble 'stabbing' upwards with decent uppercuts as Rose throws the jab.
The fifth round sees the Sheffield man sinking in some sickening body shots, but he 'whinces' as Rose lands bang-on his grazed right eye. Noble continues to keep centre of ring while Rose is forced to edge around the ropes. (For me – considering this was a 'Title' fight – it was a little lacking!)
Noble starts to 'chat' to Rose during the seventh, trying to 'wind' him up! He's told to 'cut the chat' by Referee Howard Foster while his corner urges him to throw more punches.
Round eight and now Rose dominates centre of ring, but Noble looks to be 'playing with him' and continues to mouth at him. It's a strong finish to the eighth by Noble and he has a decent ninth round despite being warned for use of the elbow.
It's a close-call but popular Rose gets the Unanimous points decision to win the Title.
Rose's record now stands at 16 wins (4 by KO) 1 loss (1 by KO) and 1 draw, while Noble drops to 12 wins (3 by KO) 15 losses (2 by KO) and 2 draws.
Keiran Farrell (Heywood) v Kristian Laight (Nuneaton)
4 x 3 Light Welterweight Contest
'Vicious' Farrell goes the distance with tough Laight, but it's a messy contest with lots of holding on and the experienced Nuneaton Boxer 'smothers' Farrell's attempts.
The third round is particularly scrappy with both men grappling each other and Laight is warned a couple of times. There's always the sense that Farrell needs to 'calm down' a bit, but he gets the points win (40-36) to notch up another win.
Farrell improves to 7 wins (2 by KO) no losses while Laight drops to 6 wins 85 losses (4 by KO) and 6 draws.
Terry Flannigan (Manchester) v Dougie Curran (Newcastle)
6 x 2 Super Featherweight Contest
Popular Flannigan gets the points victory over Dougie Curran who is caught flush on the face in the first round which sees his legs buckle. He remains upright, but the Newcastle man is warned a few times for low blows and Flannigans corner shout "Four times – that was, Ref!"
Flanningan secures the points win and improves to 8 wins (3 by KO) no losses, while Curran drops to 3 wins 5 losses (1 by KO).
Gary Barnes (Heywood) v Sean Gorman (Aberystwyth, Wales)
4 x 2 Welterweight Contest
It's a cautious start for debutant 'Gorgeous' Gary Barnes against a solid Sean Gorman, and the Heywood man must have thought this was a tough first outing.
It's a bit like a 'cat-fight' as both men hold-off then fly-in with a flurry of shots. But Barnes finds himself on the canvas in the fourth and, taking to one knee for the count, does not get up and is counted out by Referee Phil Edwards. Gorman improves to 1 win (1 by KO) and 2 losses.
Johnny Ward (Middleton) v Mark Lewis (Kings Clipstone)
6 x 2 Cruiserweight Contest
'Irish' Johnny Ward has a good contest against Lewis. The busier man throughout the contest – Ward applies 'one-two's' to the head and some decent body-shots to secure his second pro-win. Lewis drops to 1 win (1 by KO) 12 losses (1 by KO).
Steve Keay (Stretford) v Jason Thompson ( Huddersfield )
4 x 2 Lightweight Contest
Debutant Keay notched up his first pro-win on points 40-37. Thompson drops to 6 losses (3 by KO) and 3 draws.
Warren Tansey (Middleton) v Gary Boulden (Shepperton)
4 x 3 Super Middleweight Contest
There's big support (as always) for Warren Tansey – who 'fires' out of his corner at the start of this four rounder. But the Middleton man settles down by the end of the first frame and both men land with decent shots.
Tansey is caught with some headshots during the second round and sustains a cut to the left brow in the third. A close contest which results in a draw.
Tanseys record now stands at 4 wins (3 by KO) 1 loss and 1 draw. Boulden's record is now 3 wins 1 loss (1 by KO) and 2 draws.