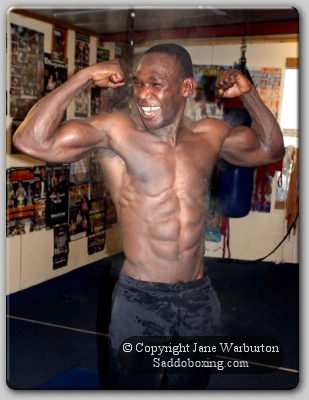 Click the above Image for more Photos
Last week, Saddoboxing.com went along to Shinfields Gym, Somercotes, Derbyshire, to see how Ovill McKenzie is shaping up ahead of his clash with Tony Bellew on the 11th December.
McKenzie will face Bellew for the Commonwealth (British Empire) Light-Heavyweight Title. 'Bomber' Bellew of Liverpool is undefeated - boasting a 14 win (9 by KO) record, while Prizefighter 'Star' – McKenzie, has an 18 win (7 by KO) 9 losses (1 by KO) record.
Ovill – 'The Upsetter' has struggled to get opponents and has not fought since February when he scored a first round TKO over Billy Boyle.
Despite the bitter cold – it was (as usual) a warm and friendly atmosphere at the Gym and another busy morning. Boxers were returning from their run around the local area when I arrived. Once back in the gym – there was no 'hanging about' – all the men set about their routine on the punch-bags or shadow-boxing in the ring.
"Rendall's not sneaked back yet, then?" I joked to Mike Shinfield. "No, we've managed to keep him away" smiled Mike, "We told him not to come in during November, so we'll be expecting him back soon".
[Since this visit, Rendall has won the British Boxing Board of Control's 'Boxer of the Year Award' – beating off the likes of Carl Froch, Amir Khan and David Haye.]
Just then, Ovill appears from his run, with his unmistakable big grin - he nods hello.
I watched as he worked the punch-bags and he looked in great form. Jumping in to the ring – he began his pad-work with Jason Shinfield. I noted how sharp he was looking – fast hands and feet. He punched really hard at Jasons padded hands as they moved around the canvas and I imagined how painful it must be to receive a body-shot from him!
Several 'rounds' later, he finished with exercises on the mats, then – taking his top off – laughed as he was engulfed in the steam rising off his body. He looked in fantastic physical shape! And was happy to pose for photo's !
"The training has gone well and I just want to get in there now" he commented, "..And I WILL be bringing that belt back with me, I WILL win – no question!"
Ovill McKenzie faces Tony Bellew for the Commonwealth (British Empire) Light-Heavyweight Title at the Liverpool Echo Arena on the 11th December.