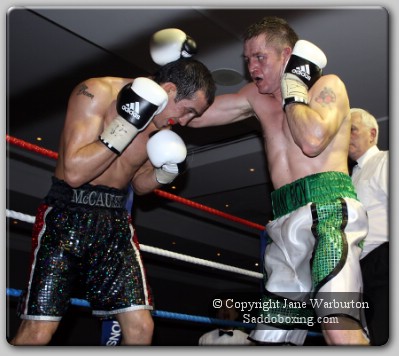 Click the above Image for more Photos by Jane Warburton
Saturday night, at the Hilton Hotel in Coventry, England, Les Allen Promotions hosted a Dinner Show which featured three contests.
Kevin McCauley (Halesowen) v Sean McKervey (Coventry)
10 x 3 Welterweight Contest
This was McCauley's first defence of the Midlands Area Welterweight Title he won in October against Dave Ryan. But McCauley and McKervey fought in September of this year when they were awarded a draw at the Civic Hall, Wolverhampton .
There's big support for the local man as the fight gets off to a steady start - with both men targeting the head with lefts and rights. The second round is interrupted twice for McCauley's loose boot-lace to be re-tied and his nose is bloody by the end of this second frame.
The third round sees the champion 'fly' out of his corner. A better round for a more motivated McCauley but both men provide plenty of action.
McKervey sustains a cut to the right brow in the fourth and Referee Howard Foster briefly stops the contest to get it checked by the ringside Doctor.
The cut motivates McKervey to up the tempo while McCauley 'works' on the wound (!). It's a messy round five as both men grapple and their work looks sloppy. By the seventh round – McKervey looks exhausted. He takes 3-4 good head shots in the seventh but finishes the round with a decent left hook.
McKervey finishes the eighth round strongly and despite looking more tired than McCauley – goes on to secure a points win 96-94 to take the Title.
McKervey improves to 8 wins (1 by KO), 2 losses and 2 draws, while McCauley drops to 7 wins, 20 losses (3 by KO) and 3 draws.
James Flinn (Coventry) v Matthew Seawright (Tamworth)
4 x 3 Welterweight Contest
Seawright finds himself on the canvas in the last half-minute of the opening round. An untidy fight – particularly in the last round with Flinn 'throwing' Seawright across the ring (seemed to be a habit of his in this contest!).
Flinn – 'The Force', gets the points win 40-37 and improves to 7 wins (2 by KO) and 1 draw. Seawright drops to 3 wins, 37 losses (8 by KO) and 2 draws.
Ridas Vaivada v Farai Musiyiwa (Birmingham)
4 x 3 Middleweight Contest
Both men get off to a decent start but it's a better second half of the round for Musiyiwa in the first frame. Round two and there are big heavy punches going in, predominantly body-shots.
First Vaivada dominates, then Musiyiwa dominates. More big punches fly-in during the third frame, but Musiyiwa is caught by a left hook to the head which clearly wobbles him and – under pressure – he eventually drops to one knee and does not get up from the count.
Vaivada wins by count-out in 1 minute 57 of the third. Musiyiwa drops to 18 wins (11 by KO), 12 losses (6 by KO) and 1 draw.