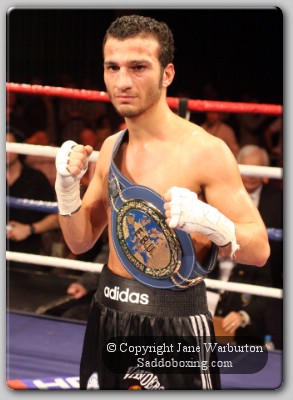 Click the above Image for more Photos from this Event
Saturday night, at the Reebok Stadium in Bolton, England, Hatton Promotions hosted a fightnight which headlined two Title bouts.
First up, St.Helens Boxer Craig Lyon faced Josh Wale of Barnsley for the English Bantamweight Title.
Craig Lyon (St. Helens) v Josh Wale (Barnsley)
10 x 3 English Bantamweight Title
Both men get off to a busy start in this scheduled ten rounder which looked like it might be a thrilling contest as both men slug-it-out from the off. Outlaw Wale lands a right followed by a swinging left to the head of the Champion in the first minute of the second frame.
Lyon touches down as he overbalances, but Referee John Keane does not count it. Lyon's right eye is starting to swell and it's a close match-up between these two!
But the drama is still to come – as in the third round, the contest is stopped when both men sustain bad cuts to the left brow area (deemed to be from a clash of heads). Rules state that as this occurred in less than four rounds – the contest is classed as a 'Technical Draw'.
Lyon retains his belt. His record now stands at 12 wins (4 by KO) and 1 draw, while a disappointed Wale has to be content with a record of 11 wins (5 by KO) 3 losses (1 by KO) and 1 draw.
The main event of the evening was Stephen Foster junior's first defence of the European Super Featherweight Title he won in October last year after 'flooring' Leva Kirokosyan in the third round.
Stephen Foster Jnr (Salford) v Ermano Fegatilli (Belgium)
12 x 3 European Super Featherweight Title
It's a good first round with both men using a variety of punches – particularly body shots. Foster looks confident but Fegatilli builds in confidence during the second round and aggressively digs in a number of body-punches. Foster puts pressure on the Belgian and the crowd begin to cheer.
Mid-way through the third – Foster has to cover up while Fegatilli unloads a barrage of shots with the Champion backed on the ropes. Fegatilli finishes the round strongly.
The Challenger is given time to recover in the closing minute of the fourth after what he gestured was 'use of the head' (!) He then drops his gumshield and has to retrieve it. Foster finishes strong. Foster lets the punches go in the fifth and has a good round.
The sixth is fairly even although Fegatilli finishes it more strongly, but by the seventh – Foster is less busy than Fegatilli, who starts to pick-it-up and pressures Foster in the corner.
Foster started the ninth off better, but with forty seconds of the round remaining – he goes down to one knee after a body-shot and has to take a count. Fighting resumes and Fegatilli throws numerous body-shots while Foster has to cover up. Another left to the body sends Foster to his knee mid-way through the tenth.
He overbalances (after a shot) and slips to the canvas in the last half minute of the same round and is forced to take another count. In the closing seconds he touches down again in the corner and takes yet another count as the bell signals the end of a disastrous round for Steve Foster junior.
He looks like he can barely keep upright in the eleventh and finally goes to a knee once more with a minute remaining. As he sits on his stool at the end of the eleventh, Maurice Cole looks like he may retire his man – but Foster junior is insistent that he is allowed to finish the fight.
Foster puts some distance between himself and the Challenger to get through the round and luckily for him – Fegatilli doesn't throw much in the first half of this final round. Then Fegatilli releases a flurry of shots and Foster covers up - seeing it out to the final bell.
Fegatilli wins on Unanimous points decision (114-110, 114-109, 114-109) to take the title and improves to 23 wins (5 by KO) 4 losses, while Foster drops to 28 wins (18 by KO) 3 losses and 1 draw.
Afterward, Foster Junior admits that he had suffered with a virus earlier in the week.
Joe Murray (Manchester) v Daniel Kodjo Sassou (Togo / France)
8 x 3 Featherweight Contest
'Genius' Joe Murray continued his perfect winning streak by out-pointing Togo-born Sassou.
Murray wins on points 80-71 and improves to 10 wins (5 by KO) while Sassou drops to 29 wins (7 by KO) 16 losses (4 by KO) and 4 draws.
Siarhei Rabchenko (Belarus) v Martin Concepcion (Leicester)
8 x 3 Light Middleweight Contest
It was a disastrous night for Leicester man Martin 'Immaculate' Concepcion, who was on the canvas twice in round two before being stopped.
Rabchenko wins by second round TKO and improves to 16 wins (12 by KO) while Concepcion drops to 17 wins (10 by KO) 9 losses (6 by KO).
Kieron Maher (Hattersley) v Lester Walsh (Leicester)
4 x 3 Welterweight Contest
Maher split his glove in the third round and had to get it replaced before continuing the contest. He went on to get the points win (40-36) and improves to 7 wins (2 by KO) while Walsh drops to 2 wins 14 losses (3 by KO) and 1 draw.
Richard Towers (Sheffield) v Daniel Bispo (Brazil)
6 x 3 Heavyweight Contest
Richard 'The Inferno' Towers wins by second round TKO and improves to 9 wins (7 by KO) while Bispo drops to 22 wins (16 by KO) 16 losses (7 by KO).
Adam Etches (Sheffield) v Aleksei Tsatiasvili (Estonia)
4 x 3 Light Middleweight Contest
Adam 'The Bomber' Etches wins on points 40-36 and improves to 3 wins (2 by KO) while Tsatiasvili drops to 1 win (1 by KO) 2 losses (1 by KO).
Jack Perry (Derby) v Danny Dontchev (Bulgaria / London)
4 x 2 Light Welterweight Contest
Perry faced late opponent - Bulgarian born Dontchev who threw very little in the first round but always raises a smile in the ring! A tidy performance by Perry who had Dontchev on the canvas at the end of the third round.
Perry wins comfortably on points 40-35 and improves to 14 wins (2 by KO) and 1 draw while Dontchev drops to 4 wins (1 by KO) 28 losses (7 by KO).
Graeme Dezzie Higginson (Blackburn) v Robin Deakin (Crawley)
4 x 3 Lightweight Contest
Dezzie wins by second round TKO (just after Deakin had a point deducted for holding) and improves to 13 wins (4 by KO) 8 losses (3 by KO) and 1 draw while Deakin drops to 1 win 28 losses (8 by KO).
Robin Reid (Runcorn) v Jamie Ambler (Aberystwyth)
4 x 3 Super Middleweight Contest
Prizefighter Contender – 'The Grim Reaper' Robin Reid didn't have an easy ride against experienced Welshman Ambler, but secures the points win 39-38 in the run-up to Prizefighter in three weeks time. He improves to 40 wins (27 by KO) 6 losses (2 by KO) and 1 draw, while Ambler drops to 9 wins (3 by KO) 46 losses (6 by KO) and 2 draws.