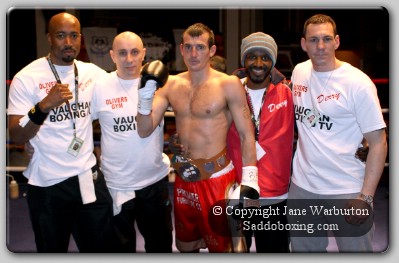 Click the above Image for more Photos from Jane Warburton
Saturday night, at Liverpool Olympia, England, Stephen Vaughan promoted a six-card fight-night which headlined the vacant English Lightweight Clash between local man Derry Mathews and Soldier - Amir Unsworth.
Derry Mathews (Liverpool) v Amir Unsworth (Sleaford)
10 x 3 Vacant English Lightweight Title
Local boxer 'Dirty' Derry won the English Lightweight Title by a first round demolition of Army man 'Unzy'. Matthews never let Unzy off the hook from the first bell – catching him early with a left and keeping him under pressure throughout the round - finally forcing the stoppage in the closing minute.
Mathews wins the belt by TKO and improves to 27 wins (13 by KO) 5 losses (5 by KO)
Unsworth drops to 13 wins (2 by KO) 4 losses (2 by KO) and 1 draw
Scott Miller (Stoke) William Warburton (Atherton)
4 x 3 Light Middleweight Contest
Miller – from Scott Lawton's Impact Boxing Gym in Stoke – had a messy fight against William Warburton. Warburton's corner urged him to go for the uppercuts with which he had some success in the latter half of the fight, but generally it was a 'sloppy' contest with few clean shots being landed. Miller gets the points win (40-37) and improves to 8 wins (3 by KO) no losses, while Warburton drops to 3 wins 17 losses (2 by KO) and 2 draws
Paul Davies (Prestatyn) v Scott Moises (Aylsham)
4 x 3 Super Featherweight Contest
Paul 'Discoball' Davies suffered a devastating first round defeat to a motivated Scott 'Iron Duck' Moises.
The Welsh man was on the canvas almost immediately after the opening bell. Moises threw some big swinging rights and Davies was down again, another big punch later and pressured on the ropes – Referee Steve Gray jumped in to stop the action.
Moises – who now seems to have found his winning formula – gets a second win by TKO after losing his first two contests on points.
Moises improves to 2 wins (2 by KO) and 2 losses while Davies drops to 3 wins and 1 loss (1 by KO).
Paul Economides (Connahs Quay) v Pavels Senkovs (Mansfield)
4 x 3 Featherweight Contest
Welshman Economides faced Latvian-born Senkovs aka 'Bash' in this four rounder.
'Spartan' Economides goes for the body in the second round and – in doing so – administers a couple of low blows. He keeps up the pressure on his opponent to secure a points win (40-37) and improves to 10 wins and 2 losses (1 by KO) while Senkovs drops to 2 wins (2 by KO) 31 losses (2 by KO) and 2 draws
Paul Butler (Ellesmere Port) v Francis Croes (Middlesbrough)
6 x 2 Flyweight Contest
'Baby Faced Assassin' Butler notched up his second pro-win against tough Middlesbrough Boxer - Croes. Butler targets Croes's body from the 'off'. He picks up the pace in the second round - landing some thumping body-shots. He stays busy – keeping up the pressure on Croes who can only 'cover-up' and the Middlesbrough man does well to last to the fifth when Referee Steve Gray finally jumped in to stop the contest.
Butler wins by fifth round TKO.
Croes drops to 1 win (1 by KO) 15 losses (3 by KO)
Nick MacDonald (Liverpool) v Dai Davies (Merthyr Tydfil)
6 x 3 Super Bantamweight Contest
A fairly closely matched contest between these two. Davies sustained a cut above the left eye mid-way through the contest but the boxing itself was steady with no notably big shots from either man.
MacDonald wins on points (59-57) and improves to 4 wins (2 by KO) 1 loss (1 by KO) while Davies drops to 6 wins (1 by KO) 15 losses (9 by KO) and 1 draw