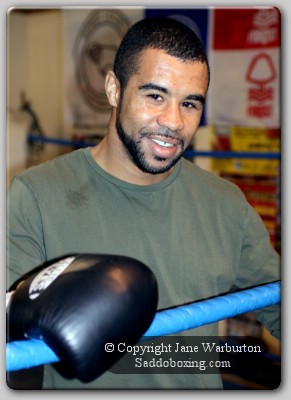 Click the above Image for more Photos from Jane Warburton
Tuesday, Saddoboxing went along to Shinfield's Gym in Somercotes, Derbyshire, to check in on European and Commonwealth Super-Bantamweight Champion - Rendall Munroe.
News came out last week that Munroe had switched promoters and is now under the wing of Hatton Promotions.
Munroe's Manager – Mike Shinfield and Trainer – Jason Shinfield were keen for everyone to know that there has been no 'fall-out' with Mr. Maloney.
"We appreciate all he's done for us and Rendall over the years" Jason began,
"We went out to Japan and Rendall fought well against Toshiaka – losing on points but the rounds were close, that proved what a Champion he is. After that, he took a well-earned break but once back in the gym he didn't like the thought of going back down to fighting 8-rounders…it wasn't an incentive.
Hatton's seemed keen to have Rendall on their books…they came back with the offer of a title fight on the Khan v McCloskey under-card and Rendall's very happy about that.
He walked in to Hatton's office as Rendall….and walked out as the Rendall '2Tone' Munroe we know! It's put a spring in his step and he's motivated!
Mike Shinfield continued – "Some of the media were under the impression that we had released the news BEFORE talking to Frank about it – that isn't true. We'd been trying to get hold of him over the weekend and finally made contact on the Monday. It was a couple of hours after the conversation that Rendall broke the news on the internet. As I said, we appreciate all of Franks help over the years – there's nothing personal – it's just a change that we (including Rendall) all feel is right for Rendall – he's our priority. We can only do our best and try and make the right decisions for him – if it goes wrong we'll have to stand by our decision, but right now it feels that it's the right thing for him."
Saddoboxing.com asked how Rendall himself was feeling about all the changes.
[He Laughs] "I'm very happy…it's something different. Frank's been very good to me, but this is just something different. I lost in Japan – but I showed I was a champion and I want to continue to fight at top level."
Munroe will face Andrei Isaeu of Belarus for the WBA International Super-Bantamweight Title on the Khan/Hatton/Golden Boy Promoted Fight-night on April 16th at the MEN Arena.
"Andrei's got a similar record to Rendall: 23 wins (2 by KO) with 2 losses (1 by KO) and he's a good boxer," Jason said. "I've got a tape of him and we're matching sparring opponents to his style. Rendall sparred with Kid Galahad (of Sheffield) this weekend and today – Joe Costello, a top-rated Amateur (and former European Schoolboy Champion) from the Chelmsley Wood Gym. Training has gone well and we're looking forward to April 16th."