Don't Miss ABC News' Spotlight On Ginamarie Russo Coming Next Month!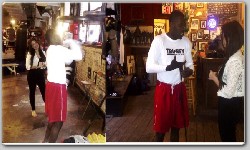 I recently had a chance to catch up with Brooklynite, Sechew Powell, 26-2 (15KO), at Trinity Boxing in NYC. Ironically, Powell was born in the same part of Brooklyn, known as Brownsville, as my father was born in.
Powell says that the neighborhood's culture has changed since then, "When your father was there, it used to be mostly Italian immigrants." Now it is an ethnically dense part of the borough. But that's not the only similarity between the two; my father Jack also boxed as an amateur.
Now Powell resides in a different neighborhood these days, yet loyally living in Brooklyn. I gave Powell the opportunity to be featured on my interview segment that will be airing on the ABC news network, the first week of June.
The inside look focuses on my knuckle replacement surgery done by Dr Charles Melone, my life in the entertainment industry, and my involvement with boxing. Cameras followed him and I as we freely discussed his career.
Powell is very enthralled in his training. Although the producers requested that he continue to workout (it was his second workout of the day), Powell was nothing short of energetic and gracious.
As I observed him, I noticed he is not distracted by the crowded gym and he can hold a conversation with me quite perfectly as he hit the speedbag, shadow boxed and jump roped effortlessly. I was more than pleased that my choice to feature a boxer was the soft spoken Mr. Powell, especially after learning of exciting news.
SaddoBoxing: So, you are indeed training and getting ready to fight?
Sechew Powell: Yes! I will be fighting [Cornelius] K-9 Bundrage for the IBF Junior Middleweight Title sometime in June. It will be in St Louis on the undercard of Devon Alexander vs. Lucas Martin Matthysse.
SB: Do you know his fighting style? He could've switched trainers or tweaked his technique over the years…
SP: Well, this is a rematch. I won the first time. I am ready with whatever he got for me.
SB: Look at you, not even tiring yet and your onto the second workout of the day. You shadowbox with precision, do you just remember what you worked on with your trainer or do you pretend an opponent is in front of you?
SP: It's like choreographed. I work on it with my trainer and I remember it.
Powell's loyal trait, as he is to his borough, extends to his relationship with his trainer, Angel Rivera. Powell has been working with Rivera since he was 15 years old. He is now 31 years old.
"I can have any trainer out there, I worked with Buddy McGirt, " Powell tells me as he wraps his hands, "but what I have with my trainer is chemistry. That can't be found. Like a beautiful girl. I can think she is very beautiful but if there's no chemistry, the relationship's not going anywhere."
Powell is back in action on fight night, June 25, 2011 in St Louis for a rematch with Cornelius K9 Bundrage! And catch Powell and I on ABC News this June!