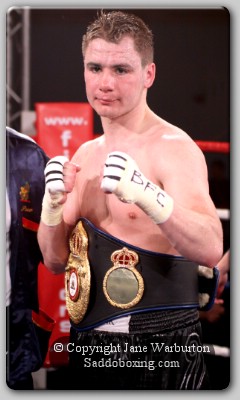 Click the above Image for more Photos from this Event
Bradley Pryce of Newport, Wales, lost out on points to Sergey Rabchenko of Minsk, Belarus, Friday night at Deeside Leisure Centre, Queensferry, Wales. On a Robert Waterman / Mick Carney promoted fight-night – Rabchenko got the unanimous points victory to win the vacant WBA Inter-Continental Light Middleweight Title.
Also on the eight-card Bill, Connah's Quay favourite – Tom Doran, won his scheduled ten-rounder against Birmingham's Max Maxwell by first round TKO, but the stoppage by well-respected Referee – Howard Foster, has been a hot topic this weekend !

Bradley Pryce (Newport, Wales) v Sergey Rabchenko (Minsk, Belarus)
Vacant WBA Inter-Continental Light Middleweight Title
Bradley 'Sugar Sweet' Pryce faced Belarusian – Sergey Rabchenko for this Inter-Continental Title.
Rabchenko keeps centre of ring as they begin the opener and has the better first half of the round but Pryce finishes the second half better. Pryce is pressured in the corner for the first half of round two but again picks it up in the second half of the frame. He starts to use the right hand with success in the third but again allows Rabchenko to back him into the corner. Rabchenko snaps out the left and right and lands a decent left to the face of Pryce in the closing minute.
Rabchenko starts the fourth well – landing a number of shots – again in the corner – and Pryce's face has started to mark up. It's a better round five for Pryce as he picks-it-up and this time it is Pryce who backs Rabchenko on the ropes. The Belarusian lands a nice uppercut and moments later just misses with a big right.
Although backed on the ropes again at the start of the sixth – Pryce is starting to sharpen up. He gets busy with the jab while Rabchenko is looking less sharp this round, until the closing eight seconds when he lands a left uppercut and finishes strongly.
Rabchenko has a decent round seven and at the start of the eighth it looked like Pryce could have been 'stopped' as he is pressured in the corner by a number of shots. He keeps it together though and has a better start to the ninth. Rabchenko seems to have switched-off a bit but in the closing forty seconds he throws a barrage of shots while he pins Pryce in the corner.
The eleventh sees Rabchenko with gloves dropped low and Pryce is a bit more 'on it'. His corner implores their man to throw the right "Let them go, Brad", shouts trainer Gary Lockett. Unfortunately, Pryce was reluctant to 'let them go' throughout the contest, much to the frustration of his corner.
Rabchenko wins on Unanimous Points Decision: 117-112; 116-112; 116-113;
His record now stands at 17 wins (12 by KO) no losses, while Pryce drops to 31 wins (18 by KO) 10 losses (4 by KO)
Tom Doran (Connahs Quay) Max Maxwell (Birmingham)
10 x 3 Commonwealth Light-Middleweight Eliminator
Local man 'Dazzlin' Doran has to take a standing count inside the first half minute of the opener, from a big right that landed to the head. He doesn't go down to the canvas but staggers back on the ropes. 'Mad Max' covers up – looking to land the right again – which he does! Dorans nose starts to bleed, then with half a minute of the round remaining Max lands another right followed seconds later by another and Doran starts to topple. The Connahs Quay man overbalances and as he does – he clips Maxwell with a shot and follows it with a right and now it's Maxwell's turn to stumble. The Birmingham man drops his gloves and Doran lands a left before Referee Howard Foster jumps in to stop the contest. Maxwell immediately protests, leaving the ring in disgust before the decision is announced.
Doran wins by round one TKO and improves to 10 wins (3 by KO) no losses, while Maxwell drops to 14 wins (3 by KO) 10 losses (2 by KO) and 3 draws.
James Jazza Dickens (Liverpool) v Stoyan Serbezov (Burgas, Bulgaria)
4 Round Super Bantamweight Contest
Smiley 'Jazza' Dickens looked like he was getting four rounds of punch-bag practice!
He used a mix of shots to break through Serbezov's tight, high guard and found success in the fourth when the Bulgarian was forced to hold on momentarily.
A facially-battered Serbezov survived the pummelling and Jazza gets the points decision 40-36
Dickens improves to 3 wins (1 by KO) while Serbezov drops to 4 wins (3 by KO) 17 losses (1 by KO)
Rob Hunt (Stafford) v Matt Seawright (Tamworth)
4 Round Light-Welterweight Contest
It was a messy fight between these two with lots of grappling.
Seawright goes in with a low stance and taller Hunt grabs hold. An untidy fight with very few clear shots. Seawright sustains a cut to the left eye area in the fourth.
Hunt wins on points 40-37 and improves to 15 wins (1 by KO) 1 loss (1 by KO) and 1 draw, while Seawright drops to 3 wins 47 losses (9 by KO) and 2 draws
Justin Jones (Rhyl) v Elvis Dube (Derby)
4 x 3 Super-Middleweight Contest
It was a steady opening round for these two men but Shinfields boxer – Dube, picked it up mid-way through the fight to edge it over Welsh man Jones.
Dube wins on points 39-38
Dube improves to 3 wins (2 by KO) 8 losses (2 by KO) while Jones drops to 4 wins (2 by KO) 1 loss and 2 draws
Tom Shaw ( Burton-on-Trent) v Kristian Laight (Nuneaton)
4 x 3 Welterweight Contest
Shaw wins on points 40-36 to notch up his second pro-win.
Laight drops to 6 wins 94 losses (4 by KO) and 6 draws

Andy Keates (Stoke) v Steve Gethin (Walsall)
4 x 3 Super-Featherweight Contest
Keates had a testing time against Gethin who looked motivated for this one, but the Stoke man secured the points win 40-36 to notch up his second win.
Gethin drops to 11 wins (6 by KO) 60 losses (11 by KO) and 3 draws
Kieran Maher (Hattersley) v Billy Smith (Worcester)
4 x 3 Welterweight Contest
Maher wins on points 40-36 and improves to 8 wins (2 by KO) while Smith drops to 12 wins 93 losses (8 by KO) and 2 draws.