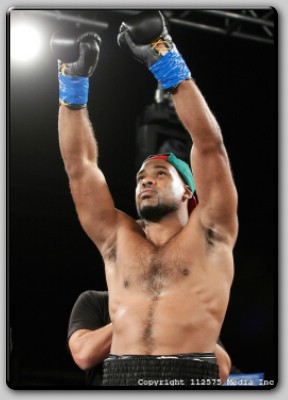 Heavyweight Boxer Gerald Washington decided that his profession was better suited for the boxing ring than the gridiron, just over 3 years ago. Following a successful career at the University of Southern California (USC) and subsequent try-outs for NFL teams, Washington decided to attempt his fate at boxing.
His choice of career change would be a great one as Gerald Washington performed very well within the amateur ranks so chose to turn pro in 2012. From then, the former USC stand out has captured the interest of the boxing world, catapulting their career off to an impressive 7-0, 5 KO's record. On this USC Saturday night, June 8th, 2013, Washington will meet his toughest challenge to date when he meets journeyman Sherman Williams 35-12-2, 19 KO's in his very first televised bout on Showtime Extreme.
It may seem bitter-sweet for Washington and he is looking to make the best of this chance. Washington did not take a conventional course to the sport of boxing and has worked really hard to get there.
Washington grew up in a modest home in Vallejo, California. A son to a single Mom of Mexican a descent and father that was African-American, Washington was lucky to have his mother and father in his life. He remained with his Mom during the weekdays and spent the weekends with his stepmother and father.
When he was twelve years old, Washington was sent to live with his godmother in Mexico to experience a part of his culture. He learned a great deal from his experience and later moved back to the usa. Following his graduation from Washington-Pullman high school, Washington joined the United States Navy and finished his 4 year enlistment under honorable conditions in 2004.
Following his enlistment in the Navy, Washington went to Chaffey Junior College in Rancho Cucamonga and excelled as a tight end earning him a scholarship to USC. Washington exhibited his athleticism at USC and would play both tight end and defensive end. In 2009, he graduated with a degree in Sociology from USC and later had many interests from NFL teams.
After trying out for the Buffalo Bills and Seattle Seahawks, Washington discovered his passion was for the sport of boxing. As a youth mentor and boxing coach for the Youth Activities League with the Los Angeles Sheriff's Department, he re-discovered his love for the sweet science. As he trained the youth and used the techniques that he was teaching towards himself, he realized he could be heavyweight champion of world.
Gerald Washington has a chance to display his abilities to the world as he will be debuting on live tv via SHO Extreme on the undercard of the highly anticipated fight between sluggers Joesito Lopez and Marcos Maidana at the Home Depot Center in Carson, California.
Gerald Washington has been under the care of boxing trainer John Pullman and has trained hard for his future fight with Williams. Taking a break from training at Pullman's Gym in Burbank, California, Washington was asked about his thoughts on his very first live televised bout: "I'm truly excited and appreciative of the chance to fight on live tv. I put in the hard work during training with my team and I'm improving each day. I can't wait to get into the ring and display my skills for the boxing world."
"The opportunity that I have been given brings me one action closer to a world title fight and eventually that world championship belt around my waist."
Trainer John Pullman stated: "Gerald is ready and has done all the work he needed to do to prepare himself for this fight. This is his hardest challenge to date and from what he has shown in his work ethic, I really think he will shut this man down. He has all the tools necessary to become the heavyweight champion of the world."
Gerald Washington was then asked about his future and stated: "With this fight, I'm hoping to get the interest of the boxing world. I'm definitely on the rise and I'm getting better everyday. Heavyweights: take notice because I'm coming to fight the best and clean up the division. I'm going to deliver the world title back to the United States where it belongs."