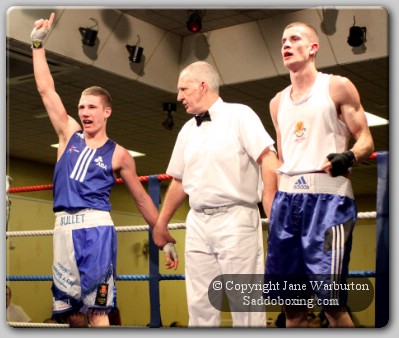 Sunday afternoon, Triumph Standard ABC in Coventry hosted the ABAE Junior ABA Championships and the Elite Senior Midlands Final.
It was a relaxed atmosphere in the venue where families enjoyed lunch and a packed afternoon of Amateur Boxing, but the boxing itself was very well controlled by Referees and officials.
Results as follows.
3x2 minute rounds:
50kg - James McDonald (Scunthorpe) v Lenny Evans (Shrewsbury)
Evans by Unanimous Decision
85kg - Keiran Wallis (Donnington) v Lewis Steinborn (Pro Fitness)
Steinborn by Unanimous Decision
48kg - Barney Stretton (Bracebridge) v Jagbir Hayer (Triumph)
Hayer by Unanimous Decision
48kg - Samuel Holt (Nechells) v Ainsley Ratcliffe (Willaim Perry)
Holt 3-2
57kg - Faisal Anjum (Aston) v J Summers (Wednesbury)
Anjum wins. Summers retired in the second
63kg - Jordan Tibbles (Earl Shilton) v Liam Berrisford (Impact)
Berrisford wins 3-2
4x2 minute rounds:
54kg - Cori Gibbs (Eastside) v Callum Baptiste (Bracebridge)
Gibbs by Unanimous Decision
63.5kg - Reuban Short (Belgrave) v Haydon Walker (Bracebridge)
Walker wins 4-1
86kg – M. Brierly (Manton) v Tom Rudkin (Belgrave)
Brierly wins. Rudkin Disqualified.
3x3 minute rounds:
51kg - Raza Hamza (Aston) v Usman Malik (Merlin Youth)
Hamza wins 4-1
54kg - Alimaan Hussain (Aston) v Bobby Jenkinson (Bracebridge)
Hussain wins 3-2
57kg - James Melvin (Hall Green) v Leigh Wood (Terry Allen Unique)
Wood wins 4 -1
60kg - Antonio Counihan (Eastside) v Sukhjeevan Brar (Far Cotton)
Counihan wins 4-1
63.5kg - Nathan Heaney (Hutton Abbey) v Sam Bowen (Earl Shilton)
Bowen by Unanimous Decision
67kg - Daryl Baptiste (Bracebridge) v Atkarul Alom (Hall Green)
Baptiste wins 4-1
75kg - Dominic Deevey (Leicester BA) v Ross Batey (Boston ABC)
Batey wins. Referee Stopped the Contest in the first round.
81kg - Jason Edmands (Exhall) v Ricky Summers (Lions)
Edmands wins 3-2
91+kg - Frazer Clarke (Burton) v Joel Ducile (Aston)
Clarke wins 3-2