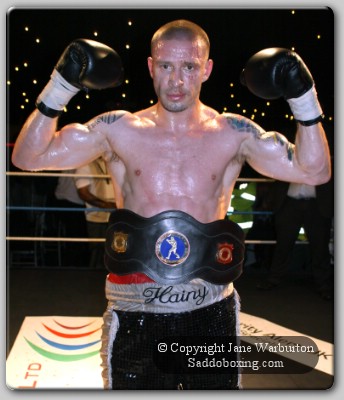 Click the above Image for more Photos from Jane Warburton
Last night, in a lavish Marquee at Derby Rugby Club, England, Clifton Mitchell Promotions hosted a fight-night which headlined two Title Bouts.
Popular Local Man – Matt Hainy, won the vacant International Masters Super-Middleweight Title by third round stoppage of last minute opponent - Kevin McCauley of Halesowen. And, Dave Ryan of Derby forced a first round stoppage of Northampton's Gavin Deacon to take the Midlands Area Light-Welterweight Title.
This boxing dinner show was very well attended by some 400 guests and included an all-action undercard.
Matt Hainy (Duffield) v Kevin McCauley (Halesowen)
10 x 3 Super-Middleweight Contest
Vacant International Masters Super-Middleweight Title
Hainy must have been pleased just to finally get an opponent last night! Originally scheduled to face Nick Blackwell, then Lee Noble and finally Kevin McCauley at the eleventh hour!
Hainy looked super-confident but it was McCauley who got off to the better start. The Halesowen man threw a variety of shots – finding most success with lefts and rights to the head of Hainy. The local man looked surprised by his opponent and wasn't too happy by the cut to the left eye area he picked up in the first round from an accidental clash of heads either!
Looking bothered by the cut – Hainy has a less confident start to the second but picks it up by the end of the frame after trainer Clifton Mitchell assures him the cut isn't bad. Hainy starts to throw his trademark 'left hook' and McCauley drops to a knee in the third. He takes the count and fighting resumes but moments later he is under pressure from Hainy who seems to have 'let it all go' in the third and McCauley is stopped by Referee Terry O'Connor.
Hainy wins by third round stoppage to win the Title. He improves to 8 wins (1 by KO) and 2 losses (1 by KO).
McCauley drops to 9 wins 26 losses (4 by KO) and 3 draws.
Dave Ryan (Derby) v Gavin Deacon (Northampton)
10 x 3 Light-Welterweight Contest
BBBofC Midlands Area Light Welterweight Title
Ryan clearly wanted to look impressive this time out as he came out 'all guns blazing' for this scheduled ten-rounder. Subjecting Deacon to lefts and rights to the head – Ryan did not let him 'off the hook'. Deacon didn't go down but was under pressure from Ryan – unable to throw a shot and was stopped by Referee Shaun Messer. Ryan wins by first round stoppage to win the Midlands Title. He improves to 11 wins (3 by KO) and 4 losses. While Deacon drops to 6 wins 21 losses (6 by KO) and 1 draw.
Scott Haywood (Derby) v Jason Nesbitt (Birmingham)
4 x 3 Welterweight Contest
'Super Scotty' looked invigorated last night! He had lots of support from the watching diners as he started this four-rounder against experienced veteran – Nesbitt. But Haywood looked like someone who'd had a holiday and come back refreshed from it! With the bigger work-rate, Haywood had a busy round three and his long-reaching lefts and rights were the more notable although he had to watch out for Nesbitt's big right!
Haywood gets the points win 40-36 and improves to 21 wins (4 by KO) 6 losses (2 by KO) and 1 draw.
Nesbitt drops to 9 wins (6 by KO) 128 losses (11 by KO) and 3 draws.
Ty Mitchell (Derby) v Darren McKenna (Hayes, London)
4 x 3 Super-Middleweight Contest
'Hyper' Ty Mitchell looked keen to impress the crowd. The flashy, rangey, Southpaw 'winds-up' a shot in the opener which landed to the head of McKenna. Mckenna finds himself kneeling on the canvas in the second. He takes the count from Referee Messer but the fight is called off.
Mitchell wins by second round KO and improves to 3 wins (2 by KO) and 1 loss, while McKenna drops to 1 win (1 by KO) 2 losses (1 by KO).
Leon Mrvik (Long Eaton) v Jake Dyer (Whittlesea, Cambridgeshire)
6 x 2 Super-Middleweight Contest
Tattoo'd Mrvik is almost caught 'off-guard' as they come out for the first round, but quickly resumes his composure and it's a fairly even first round. He pressures his opponent against the ropes at the end of the second – throwing some wild swinging shots and it seemed he could have stopped Dyer had there been a few seconds of the round still remaining, but Dyer was resilient and both men scored with headshots during the third frame. Dyer puts Mrvik under pressure at the start of the fourth but the Long Eaton man finishes the round strongly. An evenly matched contest sees Referee Terry O'Connor score it a 57-57 draw.
Mrvik improves to 1 win no losses and 1 draw.
Dyer improves to 2 losses and 1 draw.
Paul Frost (Derby) v Chuck Jones (Ferndale, Wales)
6 x 2 Lightweight Contest
This contest will best be remembered for the head-clashes!
Frost is on the canvas and sustains a cut to the corner of his left brow (between two brows) in the opening frame from an accidental clash of heads. The heads continue to bang together in the second and as the two men come out for the third – Frost is taken across to the ringside Doctor. The contest is stopped on the cut by Referee Shaun Messer and the Decision is a Technical Draw.
Frost's record now stands at 2 wins 1 loss (1 by KO) and 1 draw, while Jones's record stands at no wins 4 losses and 1 draw.