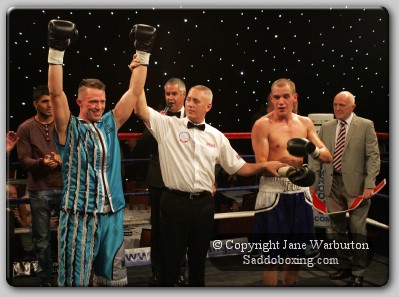 Click for more Shayne Singleton Vs Steve Jevons Photos
At the newly named Macron Stadium (formerly the Reebok Stadium) Bolton, last night, Shayne Singleton added a third belt to his name by winning the Masters Silver Welterweight Title, taking the popular Colne man just two and a half rounds to dispose of Steve Jevons of Swanwick, Derbyshire.
The 'Motown Special' dinner show hosted by Steve Wood of VIP Boxing Promotions included seven undercard bouts and was a great night out for all who attended.
Shayne Singleton (Colne) v Steve Jevons (Swanwick)
10 x 3 Vacant British Masters Silver Welterweight Title
A pretty even opening two minutes but 'Singy' is the stronger and busier in the last minute of the first round. Singleton has settled in quickly and looks confident in the second round. 'Jevs' is counted during round two for what first seemed (from my position at the time) like a slip, but Singleton had landed a left to the side of the head. The Shinfields boxer laughs it off but is literally 'saved by the bell' at the end of that round from an onslaught from the home favourite. Referee Mark Lyson stops the contest midway through round 3 (1 min 21) as Jevons is under pressure from Singleton's attack. Jevons' trainer - Jason Shinfield had already thrown the towel into the ring moments before the stoppage (unseen by the Referee).
Singleton wins the British Masters Silver Welterweight Title by third round TKO.
Undercard Results:
Paul Drago (Bolton) v Courtney Richards (Plymouth)
4 x 3 Cruiserweight Contest
Referee Mark Lyson scores it a draw 39-39
Mick Hall (Preston) v Simone Lucas (Nottingham)
6 x 3 Light-Middleweight Contest
Both men were on the canvas in round 3 (Lucas more than once) but not as a knockdown. It was a good round four for Hall who landed more than a couple of headshots as Lucas was backed on the ropes.
Hall wins on points 59-57
Marc Leach (Debut) v Bobby Jenkinson (Lincoln)
4 x 3 Bantamweight Contest
Debutant Leach had Oliver Harrison and Martin Murray in his corner with a closely watching Rocky Fielding at ringside, but it was a bad night for the debutant who tired in rounds two and three allowing Jenkinson to score some headshots and take the points win 39-38
Danny Watson (Little Lever) v Dan Carr (Trowbridge)
6 x 3 Light-Welterweight Contest
'The Phantom' did well to keep focused against entertaining Carr but he did have to take a decent shot from the Trowbridge man right at the end of round two which sees Watsons legs lock momentarily. Watson gets the points win 60-54
Steve Foster Jnr (Salford) v Yordan Vasilev (Bulgaria)
6 x 3 Super-Featherweight Contest
Vasilev sustained a dislocated shoulder in round 3 and the fight was stopped. Ringside Doctors worked on the shoulder to put it back in place and the Show resumed after a short interval.
Foster wins by TKO round 3
Rick Skelton (Penrith) v James Lilley (Swansea)
6 x 3 Light-Middleweight Contest
Lilley was taking a lot of headshots from Skelton as he was backed on the ropes in round 4 and Referee Mark Lyson steps in to stop the contest.
Skelton by fourth round TKO.
Chris Jenkinson (Bolton) v Kevin McCauley (Brighton)
4 x 3 Light-Middleweight Contest
Jenkinson wins on points 40-37