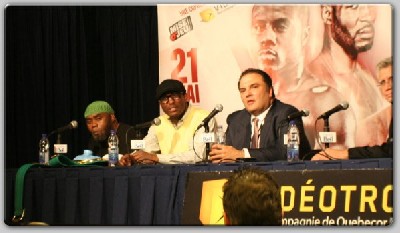 © Jose Espinoza / Saddo Boxing
A 46 year old fighter stepped into the ring on Saturday night and emerged a champion.
It was a moment that very few in the city of Montreal will ever forget. Bernard "The Executioner" Hopkins beat out a young, strong and skilled Jean Pascal to become the IBO and WBC light heavyweight world champion.
Hopkins now becomes the oldest champion in the history of boxing, which dates back hundreds of years. George Foreman, who was 45 when he won the world heavyweight championship, called Hopkins after the fight and George expressed happiness that his record was broken in such a great manner.
It is an incredible story with humble beginnings. Growing up in North Philadelphia, Hopkins did what he felt he needed to do in order to survive.
Unfortunately, the decisions the young Hopkins made led him to Graterford State Penitentiary at age 17. Hopkins took up boxing in prison as a way to help turn his life back around; it was this sport that enabled him to leave the street life that haunted him.
Unlike their first Hopkins vs. Pascal fight, the judges couldn't deny the results of the rematch, as Hopkins proved to be the busier fighter. He landed the harder shots, he landed more often, and ultimately he took Pascal out of his element and controlled the action for the majority of the evening. The official scorecards for the bout were 115-113, 116-112 and 115-114.
When asked if he accomplished all his goal by becoming the oldest fighter to win the champion of the world title, Hopkins responded that his next opponent would be Chad Dawson and he'll continue to fight as long as he feels that he can do it.
In their previous bout, Hopkins went toe-to toe with Pascal but ended up frustrated after a controversial majority draw decision was announced. Hopkins believed he was robbed of the victory in their last encounter.
Both Pascal and Hopkins had promised to deliver a knockout but instead both fighters provided boxing with an incredibly well fought and exciting battle that should help fuel boxing in Canada as well as in the United States.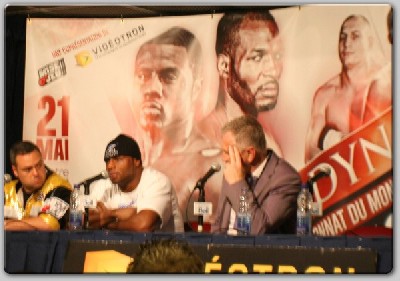 © Jose Espinoza / Saddo Boxing
Audio...

Video...