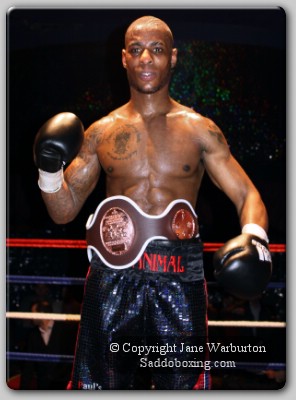 Click the Images for more Andrew Robinson Vs Luke Allon Photos
At The Tower Ballroom, Edgbaston, England last night, Andrew 'D'Animal' Robinson of Redditch won the vacant British Masters Bronze Super-Middleweight Title by stopping Luke Allon of Hull in round five.
Allon, who last fought four years ago, put up a decent fight against popular Robinson in the first four rounds. He caught Robinson with a shot just as the bell signalled the end of the fourth and Robinson touched down.
Referee Shaun Messer administered the count while the Redditch man stood looking more embarrassed than anything else and Allon was made to suffer for it after!
Allon was on the canvas at the start of the fifth round and the bout was stopped by Referee Messer after Allon went to the canvas a second time.
Undefeated D'Animal wins the belt and notches up his tenth victory with three by KO.
The PJ Rowson (ONE Promotions) Show featured eight undercard bouts of four rounds.
[The contest between Ricky Summers and Jamie Ambler was declared an Exhibition Bout when Summers came in overweight.] Last weekend, Dan Carr and Dan Blackwell were awarded 'Best Supporting Boxers' at the British Boxing Board of Control Southern Area Awards evening and both men (from Trowbridge) were congratulated in the ring by Dave Roden - Chairman of the Midlands Area Council.
Undercard results:
Kofi Yates (Wythenshawe) v Dougie Curran (Newcastle)
4 x 3 Light-Welterweight Contest
Yates wins on points 40-36.
Karl Wiggins (Birmingham)v Matt Seawright (Tamworth)
4 x 3 Welterweight Contest
Wiggins wins on points 40-36.
Lewis Fielding (Debut) (Tamworth) v Kris Laight (Nuneaton)
4 x 3 Light-Welterweight Contest
Fielding gets off the mark with a 40-37 points win against Mr. Reliable.
Craig Cunningham (Birmingham) v Dan Blackwell (Trowbridge)
4 x 3 Middleweight Contest
Cunningham wins on points 40-36.
Sean Davis (Debut)(Hockley) v Michael Stupart (Dunfermline, Scotland)
4 x 3 Lightweight Contest
A clash of heads in the opening round sees 'Stupey' Stupart get a nasty cut to the right brow, but the fight goes the distance and 'Showtime' Davis gets his first win on points 40-36.
Stewart McClean (Tamworth) v Bheki Moyo (London via South-Africa)
4 x 3 Welterweight Contest
McClean wins on points 40-36.
Warren Sinden (Welshpool) v Duane Green (Norwich)
4 x 3 Light-Middleweight Contest
Sinden wins on points 40-37.
Marcus Ffrench (Birmingham) v Dan Carr (Trowbridge)
4 x 3 Welterweight Contest
Ffrench wins on points 40-37.