By Jane Warburton March 31st, 2015 All Ringside Boxing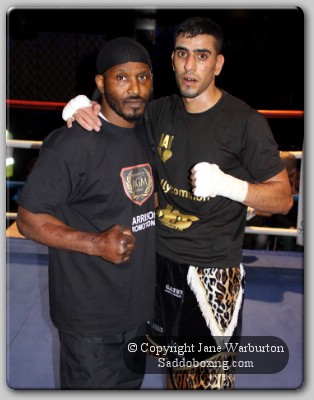 Click the Image for more Navid Mansouri Vs Gary Boulden Photos
At Evoque Nightclub in Preston Saturday night, Oliver Harrison promoted a show which featured seven bouts from local boxers.
The headliner saw Rotherham's Nav Mansouri score a fifth round stoppage of Surrey boxer, Gary Boulden, in a six round Super-Welterweight Contest, while Dublin's Antony Fitzgerald scored a points victory over John Brennan of Slough.
Results as follows:
Navid Mansouri (Rotherham) v Gary Boulden (Shepperton, Surrey)
6 x 3 Super-Welterweight Contest
The opening seconds sees Boulden off to a confident start but Mansouri lands a right to the head which sends a clear message to the Surrey man and then follows it up with two or three further rights to the head and body. Both men grapple together.
Mansouri dominates the ring. Boulden stumbles to the canvas in the second round but it's a no-knckdown.
The Rotherham boxer mixes it up with a couple of uppercuts at the start of the third and a big sweeping right lands to the head of Boulden and he goes down. He seems to fall heavily but immediately jumps up to take the count. Mansouri goes after him and Boulden holds on. Mansouri goes for the same shot a number of times and the crowd cheers.
Boulden bravely fends off his opponent in the fourth but Mansouri gets in a cracker of an uppercut in the closing seconds of the round which rocks back the head of Boulden. More...