By Jane Warburton March 22nd, 2015 All Ringside Boxing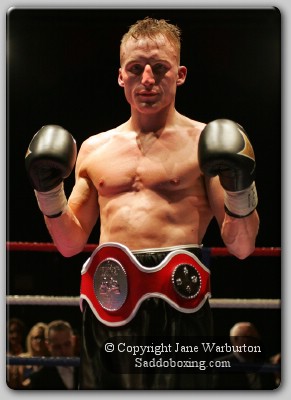 Click the Image for more Jay Metcalf Vs William Warburton Photos
At Liverpool Olympia last night, Jay Metcalf of Liverpool won the International Masters Light-Middleweight Title by outpointing William Warburton of Atherton.
The Steve Wood – VIP Boxing Promotions show featured 13 fights in total and, again, provided another entertaining and value-for-money night.
Full Results:
Jay Metcalf (Liverpool) v William Warburton (Atherton)
10 x 3 International Masters Light-Middleweight Title
I'm sure many thought Metcalf (son of former World champ – Shea Neary) would have had an easier night, but those of us that have seen Warburton fight many times would know that it was likely to go the distance and the Atherton man would go all out to win – and so he did! It was a thrilling contest and by the mid-way point Metcalf started to look frustrated that Warburton showed no sign of dwindling. The seventh was a great round but, after a couple of noticeable low blows, Metcalf was deducted a point and the now-lively Liverpool crowd (as it was 12.30am by this point) did not like it! Warburton's main problem seemed to be that Metcalf frequently had him backed on the ropes and Warby had to find ways to escape the flurries of shots that ensued.
A good contest that went the full ten rounds with 'Kid Shamrock' Metcalf victorious on points 97-93 to win the Title. More...