By Jane Warburton February 23rd, 2015 All Ringside Boxing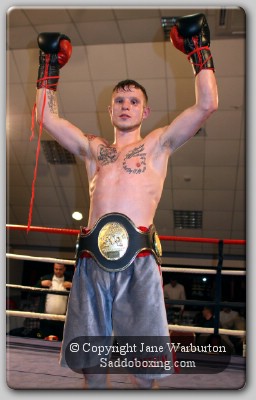 'Triple Threat' – a three fight dinner show hosted by Errol Johnson of EJKO Promotions, took place at Banks's Stadium, home to Walsall F.C. last night. The event featured three contests – two of which were for Titles.
The 'suite' was packed out and, despite there being only three fights, it was a great night with bags of action.
Lennox Clarke (Halesowen) v Dan Blackwell (Trowbridge)
Vacant British Masters Bronze Super-middleweight Title
8 x 3 Rounds
A good performance from Clarke who persisted with the jab to Blackwells' head resulting in a bloody face from round 2. After a number of headshots in round four Blackwells' face was awash with blood. A gutsy effort from the Trowbridge man but it was an 80-72 points win for Clarke to take the Title.
Des Bowater (Wolverhampton) v Lewis Jones (Leicester)
Vacant British Masters Bronze Super-featherweight Title
8 x 3 Rounds More...