By Jane Warburton July 26th, 2015 All Ringside Boxing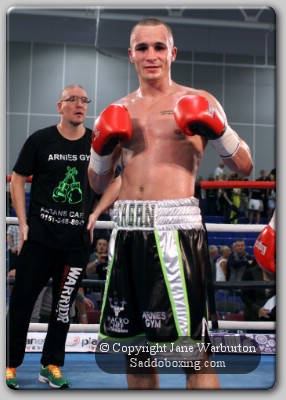 Clcick Image for more Matty Fagan Vs Adam Kettleborough Photos
At the new Sports Village in Ellesmere Port, England, last night, local man - Matty Fagan, won the English Lightweight Title Eliminator by defeating Adam Kettleborough of Newark, Nottinghamshire, on points. It was a thrilling contest with both boxers giving their 'all', but Fagan gets the points victory 97-94
The show billed as 'Nightmare in Ellesmere' – promoted by AA Promotions and LongShots Sports, featured nine undercard bouts, results as follows.
[Round 2 seemed to be a popular round!]
Matty Fagan (Ellesmere Port) v Adam Kettleborough (Newark, Notts)
English Lightweight Title Eliminator (10 x 3 Rounds)
This turned out to be a thrilling fight. Adam 'Ket' stood quietly in his corner when he came to the ring – but he gave a great fight against determined-looking Fagan. Carl Greaves told him he needed to 'get aggressive' – which he did, and had a good round three. He took a low blow from Fagan in the fourth and had to take a rest. Fagan finished the fourth round strongly. Both men were landing with lefts to the head. It was a great round 9 for both boxers. More...